"Need to Hit Absolute Rockbottom": Sympathetic Towards Coach, Fans Rage Over Canucks' Play This Season
Published 01/26/2023, 3:55 PM EST

Follow Us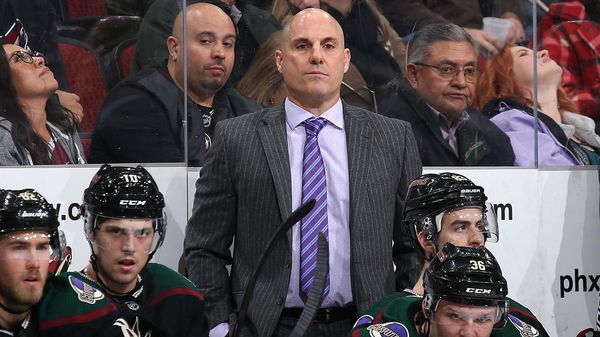 The Pacific Division of the NHL recently witnessed a heated battle. Last night, the Seattle Kraken showed the Vancouver Canucks what it takes to be in first place in the league by defeating them mercilessly, 6-1. This loss has put the Canucks in the third-last position in the league, and the fans are not having it. Not only the fans but also the new head coach is shocked just by looking at the team's performance.
Rick Tocchet is known for being one of the GOATs of the NHL. Tocchet has been assigned as the head coach after the Canucks management chose to close their contract with Bruce Boudreau.
NHL fans are just not having it
ADVERTISEMENT
Article continues below this ad
Shots have been fired after the loss, and the Vancouver Canucks' fans know who is to blame for it. The fans are not happy with the team's management as they keep replacing coaches frequently.
One fan unleashed their anger in the comment section, writing, "We need to hit absolute rock bottom. I want to see the Canucks learn their lesson. I want them to be get humbled because we should not be cheering at ALL for any goals we score. And I keep seeing it."
Another left a sarcastic comment for the Canucks' new coach that read, "Rick has officially witnessed the real Canucks in action."
This fan talked about not being a fan of the management, saying, "My question is, did canucks management literally think Bruce just sat there and let the Canuck's players do whatever they wanted without telling them what to do, with no game plan? This team has major problems no matter who the coach is. Tocchet is not the answer."
Another fan showed sympathy for Rick Tocchet – "He's in shock realizing how f**ked this team is."
Here are some more salty comments that were left by the fans of the Vancouver Canucks.
"Tocchett just learned the word anxiety last week for sure."
"Its funny we got toc, gonch and foote as coaches…..the exact players the canucks need as players they once were."
"Better get used to scrums like these, Rick. You're in for a rough ride."
ADVERTISEMENT
Article continues below this ad
"The canucks are coach killers."
WATCH THIS STORY – 93-year-old NHL Record Shattered By Bruins Goalie
What do you think of the Vancouver Canucks' management?
ADVERTISEMENT
Article continues below this ad