"Is Your Son Also Gonna Be a Swimmer?": Michael Phelps and His Eldest Kid Melts Swimming World With Their Latest Picture
Published 12/26/2022, 1:15 PM EST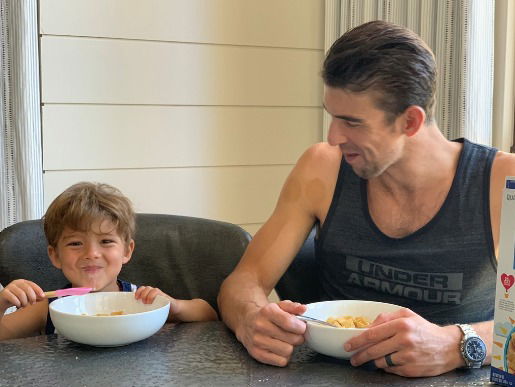 Michael Phelps, the most decorated Olympic swimmer, has his own way of celebrating the holiday season. Phelps's love for his first child is no secret. In an endearing act, he was seen carrying Boomer Phelps' footprint in his shoes during his last Olympic swim! This time, it looks like the legendary swimmer has switched his cooking expertise over to junior Phelps this season. 
Fans were hit with a heartwarming Instagram post by Phelps. In the picture of him and his son Boomer, Phelps mentions, "My sous today !!". The post also made fans curious about what's cooking for Christmas Eve in the Phelps family.
Fans left curious by the legend Michael Phelps
ADVERTISEMENT
Article continues below this ad
In the Instagram post we can see Phelps and his son Boomer in a series of selfies making adorable faces at the camera. Phelps can be seen in a white vest, while Boomer is in a printed T-shirt. Let's take a look at the comments on the delightful post.
 

View this post on Instagram

 
Popular chef Gabriele Bertaccini left a comment that reads, "I think he is ready for line!!!" It looks like Boomer Phelps will be working with him in the next season of 'Say I Do'.
Another celebrity chef also challenges mini Phelps, "Let's do a bake off."
Since Phelps didn't reveal what he and his son were actually doing, this has left a fan with a curious question that reads, "What are you cooking??"
Most of the fans had similar comments for junior Phelps. Here are some more.
"Beautiful. is your son also gonna be a swimmer? just curious."
"OMG BoomBoom is so big and handsome! He looks like Mama."
"Boomer sure is growing up. Wow.. time flies."
"Your 'mini me'. Love seeing you just be a dad."
"Merry Christmas to the Phelps family."
WATCH THIS STORY – Tiger Woods' 'Massive Scream For Help' Resonated With Michael Phelps, Who Comforted The Golfer During A Dark Moment In 2017
Both the father and the son had a huge impact on their community with just one post. Phelps has always had a unique bond with his son, which makes them so special. So our readers, what do you think they are cooking for Christmas Eve? Let us know in the comment section.
ADVERTISEMENT
Article continues below this ad
ADVERTISEMENT
Article continues below this ad