What Diet Does US Swimming Star Caeleb Dressel Follow to Keep Up as 'The Next Michael Phelps'?
Published 09/27/2021, 6:45 AM EDT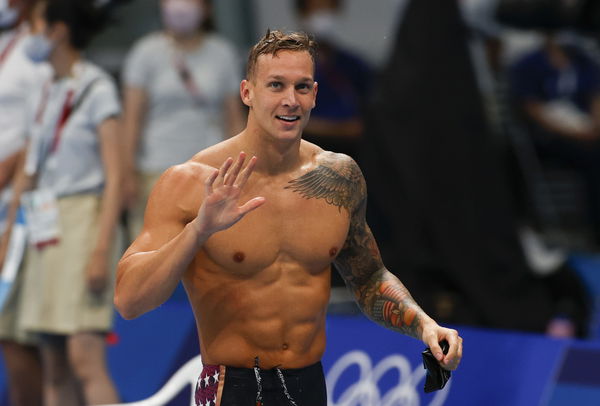 ---
---
Caeleb Dressel emerged as one of America's finest swimmers at this year's Tokyo Olympics. Making his second appearance in the quadrennial event, the 25-year-old became an instant sensation by clinching five astonishing gold medals in the Japanese capital.
ADVERTISEMENT
Article continues below this ad
His achievements in Tokyo also earned him several fans who lauded his incredible level of fitness. Notably, one of the key factors to his fitness and surreal physique is his diet.
ADVERTISEMENT
Article continues below this ad
What does Caeleb Dressel eat every day?
The American swimmer starts his day with a meal loaded with carbohydrates. While he looks for something to give him energy, he also limits how much he eats before heading to practice. Hence, keeping it light, his breakfast often features a bagel, toast, or a bowl of oatmeal.
Speaking of his morning meal, Dressel says, "I never eat a lot before I get in the water because I don't want to, you know. Anything with carbs is what I go for if it's not a full meal."
Dressel then heads for his first of two swimming practice sessions. After this session, he has either a protein bar or some chocolate milk. Following yet another light snack, the 25-year-old heads to the weight room before having lunch.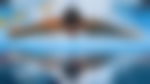 For lunch, Dressel doesn't hold back, going heavier than his morning intake. He chooses to have a meal comprising healthy carbs, proteins, and various fruits and vegetables. The 25-year-old consumes this balanced meal after training for nearly four hours before heading out for his second session.
Following a two-hour swimming session, Dressel then ends his day with a heavy dinner. This often features meatloaf, which is among his favorite dishes. "I love meatloaf so much," says the 25-year-old, who looks to get food as soon as possible after his final practice session of the day.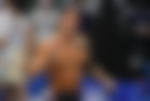 Does Dressel have any cheat meals?
The answer to this, which could come as a bit of a surprise, is yes. Although he features among the fittest swimmers today, Dressel doesn't shy away from the occasional cheat meal. The 25-year-old often shows his love for Reese's cups, which he's an ambassador of.
Dressel also loves wings. In an Instagram post, the Olympic gold medalist shared a photo of him sharing hot wings with his wife, Meghan. The pair got married on Valentine's Day this year.
ADVERTISEMENT
Article continues below this ad
Although Dressel missed out on qualifying for the 2012 London Olympics, he focused his efforts on making the 2016 Rio Olympics. The 25-year-old featured on the 4×100 freestyle and medley gold-winning teams alongside Michael Phelps that year.
ADVERTISEMENT
Article continues below this ad
Dressel took his Olympic success to even greater heights in Tokyo, winning five gold medals. He set world records in the 100m butterfly and 4x100m medley events while setting Olympic records in the 50m and 100m freestyle events.
WATCH STORY: When Olympic Legends Usain Bolt, Michael Phelps, Serena Williams and Others Won Their First Gold Medals