USA Climbs 11 Spots to Enter the Top 10 FIFA World Rankings in August
Published 08/04/2021, 9:22 AM EDT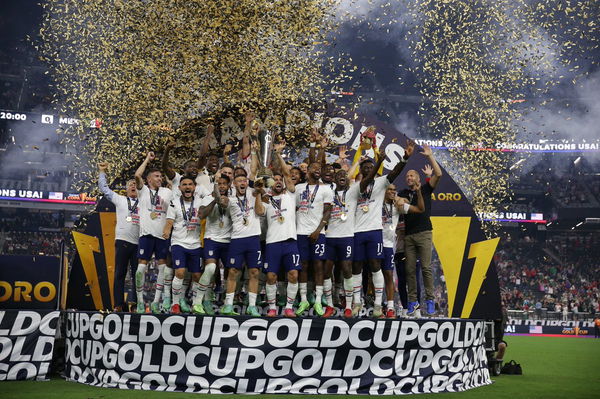 ---
---
The USMNT is making huge strides in the world of football as they shoulder the responsibility of putting America among the elite countries of the game. They got exactly what they wanted after they defeated Mexico in the 2021 CONCACAF Gold Cup final.
ADVERTISEMENT
Article continues below this ad
Miles Robinson scored the goal in extra time to send the team, and its supporters, into a frenzy. Mexico was always the historically stronger nation when it came to football, and this shift in power is apparent for everyone to see. However, USMNT's biggest win came away from the football field.
They climbed 11 spots in the latest FIFA rankings for the world and entered the top 10 for the first time in over 10 years. They ended up being 9th, and their rivals Mexico placed 10th in the rankings for the month of August.
ADVERTISEMENT
Article continues below this ad
However, there was a lot of controversy surrounding the new rankings as well. Fans weren't pleased after seeing Belgium retain their top spot and after seeing Italy being placed at fifth place. Italy recently won the Euros 2021 after beating England in the finals. Meanwhile, Belgium crashed out in the quarterfinals.
Another controversial pick from FIFA was Brazil, who gained one spot in the ranking despite losing their Copa America final to Argentina. Lionel Messi's country did climb two spots but is still ranked at number 6, much below Brazil's 2nd place.
However, the conversation was all about the USMNT as they continue finding much success on the pitch.
USMNT beat Mexico in the Gold Cup finals
ADVERTISEMENT
Article continues below this ad
The Americans had an amazing tournament this time around, especially Matt Turner and Miles Robinson. Both of them played every single minute of the entire competition and only conceded one goal. Their heroics were required in the final against Mexico as well. Turner's saves helped to keep Mexico out, and Robinson's late header clinched the trophy.
ADVERTISEMENT
Article continues below this ad
The USA is building an amazing football team, and their win without stars Christian Pulisic and Weston McKennie will boost their confidence. It'll be interesting to see where they'll end up from here, but a good world cup campaign will be in their sights at Qatar 2022.