Valkyrae to Use Members-Only Chat to Avoid Trolls and Toxic Comments
Published 04/21/2021, 12:25 PM EDT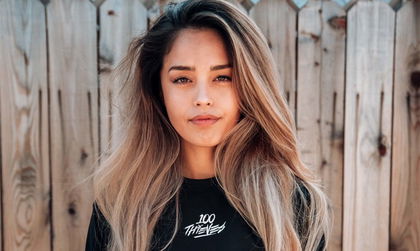 ---
---
Streaming on any platform comes with its own pros and cons. While a lot of creators get to earn a living out of it, they also have to face vile and toxic comments from viewers. This has caused a lot of issues to various creators, leading them to use members/subscribers-only chat. The latest to join this long list of streamers is 100 Thieves co-owner, Valkyrae.
ADVERTISEMENT
Article continues below this ad
ADVERTISEMENT
Article continues below this ad
Valkyrae reveals her plans to switch to Members-only chat on YouTube
Recently during one of her streams, YouTube star Valkyrae revealed her decision to switch to Members-only chat. She said that she didn't want to do it, but she was fed up with all the toxic comments and trolls.
"Since the last stream, I decided, that was the final straw. Last stream, it's not a member vs non member thing, it's just a respect thing."
She continued by saying that she won't ever revert to a non-members chat. While she said that she might change it to non-members for certain situations, it would happen rarely. The lack of good moderation tools on YouTube for an active chat like hers made it difficult for her crew to remove these messages as quickly as possible. So rather than take more hits from her viewers, it was better to stop it altogether.
"I am not going to have it out of members mode ever again. I might, you know, for like a special occasion or something, I don't know. But for the most part, that was the final straw, chat has affected me way too much, and there is just not enough utility, to moderate a chat that is as fast, and as active as this one."

She won't feel bad about this decision
ADVERTISEMENT
Article continues below this ad
Valkyrae had thought about changing it a while back, following her shift to YouTube at the start of last year. She thought a lot about the pros and cons of having a members-only chat for her channel. She continued by saying that she tried her best to ignore all the toxicity from her viewers, but eventually it got to her. Along with that, she even revealed that she won't feel bad about her decision to switch her chat to members-only because she's tired of trying.
"I tried, it's been like a year of me battling whether to have chat in members only or non members only, and those of you who have been watching me since I switched to YouTube know that I have been trying my best to make it no members only chat. But I am officially convinced that it's impossible, and I am not going to feel guilty for having it in members only mode anymore."
It's a shame to see one of the top streamers in the world face these issues. Platforms like YouTube and Twitch are trying their hardest to combat these issues with bans and suspensions. But these solutions have a lot of cracks in them, and trolls are taking great advantage of them, causing problems to creators.
ADVERTISEMENT
Article continues below this ad