Valorant: Elderflame Skins' Exorbitant Prices
Published 07/12/2020, 9:28 AM EDT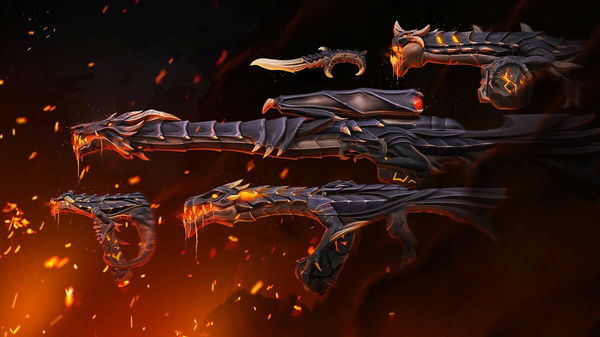 ---
---
Riot Games recently made headlines that wasn't entirely good. Valorant officially announced the Elderflame skin bundle that opened up to mixed reviews. The skins weren't the major problem, however, the pricing was.
ADVERTISEMENT
Article continues below this ad
The skins brought in dragons along with the weapons. They were able to breathe fire and help with reloads. All said, the skins were pretty creative and have a certain fun element to it.
Valorant – True pricing for Elderflame skins
ADVERTISEMENT
Article continues below this ad
The Elderflame skins come at a base price of $100. That is to say, the entire bundle will cost $100 which includes all five weapons. 
A Redditor DerCarrot27 decided to do an in-depth analysis of the pricing. The result was rather shocking. 
ADVERTISEMENT
Article continues below this ad
As per his calculations, the new bundle will effectively cost players $292 for the pack and to fully upgrade them. $100 for the bundle and an extra $192 to fully upgrade the weapons.
Players will have to buy around 4 80 point packs. These point packs cost $48 each that will in return fetch them 320 Radianite. For the upgrades of all skins and the knife, players need a total of 310 Radianite. 
"I did the math cause I was bored and I realized that the new Elderflame pack is about $292 for the pack and all the upgrades. The pack is about $100 base and that gives you the weapons. However, to upgrade all 5 weapons fully, it would cost about $192 as you would need to buy about 4, 80 point packs (Which are $48) which would give you 320 Radianite. You need 310 Radianite to fully upgrade all the skins and the knife. (I might have gone wrong somewhere so if there is someone who is better than me at math I would much appreciate a check) While I believe in the, if it's too much just don't buy mentality I still think this is way too much. You could buy almost 4 AAA games on launch for the same price"
ADVERTISEMENT
Article continues below this ad
Valorant's Battle Pass only has about 150 Radianite in it. That means even if players grind they are gonna fall short of what they'd want for a full upgrade. 
Earlier in April, Riot Games was criticized for the pricings. Now, the pricings have only gotten worse much to the dismay of players. Hopefully, Riot addresses the community once again about the price.