Valorant- Korean Esports Organization Makes History With 100 Match Win Streak
Published 04/05/2021, 7:30 AM EDT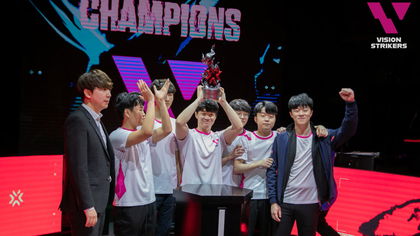 ---
---
Korean based Esports organization Vision Strikers has just made history. They have gone a total of 100 matches in Valorant without loss.
ADVERTISEMENT
Article continues below this ad
The team is interestingly a former roster of CS: GO players who went by the name MVP PK. The current Vision Strikers roster includes Kim "glow" Min-soo, Kim "stax" Gu-taek, Goo "Rb" Sang-Min, Lee "k1Ng" Seung-won and Kim "Zest" Gi-seok.
We have seen a recent trend where CS: GO players have jumped ships to Valorant. Many notable names from the Esports industry have made such switches, and Vision Strikes happens to be another classy example.
ADVERTISEMENT
Article continues below this ad
It was on April 30, 2020 that MVP PK disbanded their CS: GO roster to focus more on Valorant. Almost a year later, the decision has resulted in fruition.
Vision Strikes makes headlines in Valorant Esports
Vision Strikers has continued dominating the Asian Valorant tournaments. The team is regarded as one of the best in the world and has constantly proved its worth. Their 100 games win streak is also one of the biggest winning streak in Esports history and there seems to be no stop for the team.
So far, Vision Strikers has won both the Valorant First Strike and the Valorant Champions Tour of the Korea region. The team has encountered four draws in their matches so far, but is yet to register a loss since their formation back in June 2020.
With that match victory, we complete a momentous achievement, as we win our 100th official competitive VALORANT match without ever dropping a single series!

오늘의 첫 승리를 가져오며 비전 스트라이커즈의 100번째 공식 승리를 무패 기록으로 달성하였습니다!#FollowYourVision #VSWIN pic.twitter.com/8fMnbYiaGy

— Vision Strikers (@VisionStrikers) April 3, 2021
The players from Vision Strikers have shown immense skills in finishing matches. They have made multiple comebacks and have worked through the Valorant maps to dominate opponents.
We congratulate Vision Strikers on their success and hope to see them as one of the best in the global stage.
ADVERTISEMENT
Article continues below this ad
Is match-fixing finally nearing its end?
While tournaments continue to be conducted, several are on the notice for match-fixing scandals. Both the Valorant and CS: GO communities have faced the issue, and with investigations going on, there is hope for betterment.
Many prominent names from the gaming community have stood up to voice their opinions. They believe that such cheaters should be punished for their fraud. The EIC has been strict with their rules and with the help of the FBI, they have found many revelations.
ADVERTISEMENT
Article continues below this ad
As things stand, there is still scope for improvement. Cheaters in the game still exist, but constant effort has brought the numbers down. Hopefully, things would be cleared for forthcoming league tournaments.