Valorant: Shroud Provides His Two Cents on TenZ's Underperformance
Published 04/04/2021, 3:00 PM EDT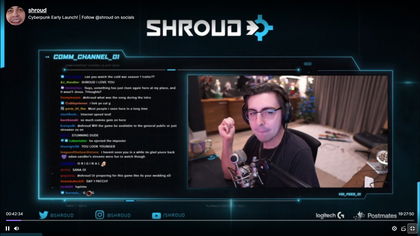 ---
---
The recent underperformance by TenZ as well as the entire Valorant roster of Sentinels has already become the talk of the town. TenZ has been widely regarded as one of the very best Valorant players in the North American region. However, the performance of the Sentinels roster as a whole has been rather disappointing in its recent match against the BBG (Built By Gamers) roster.
ADVERTISEMENT
Article continues below this ad
Valorant has always been a title that focuses entirely on team effort. In fact, it is rather difficult to win a round without everyone acting in complete synergy. All this to say, having a star player in your roster does not necessarily ensure a win in this tactical FPS eSport. Recent events have gone to further strengthen this fact.
Sentinels is a hugely popular eSports organization whose Valorant roster features a legend like TenZ. On the other hand, BBG is relatively new to the competitive pro scene of the game. Even so, BBG went on to defeat Sentinels in a recent match. The same match saw a somewhat subpar performance from TenZ as well.
ADVERTISEMENT
Article continues below this ad
Many pros came forward expressing their condolences for this loss. Shroud had commented regarding this, saying,
"Wow! well done, dude that just felt like BBG could do no wrong and Sentinels were only doing wrong. You know what I am saying like, BBG was on it and Sentinels were just a little off. I know it's crazy but stuff happens."
Later, the former CS: GO pro spoke about this again on his stream. He still stood by his earlier words.
Further reading: 'Violence. Speed. Momentum.' by Dr Disrespect is a Best Selling Minecraft Guide
ADVERTISEMENT
Article continues below this ad
Shroud comments on TenZ's recent fall on Valorant
On his recent stream, he went on to comment about this incident. He stood by his words that these things happen during matches at times. He adds that BBG did deserve that win after the exemplary performance the team showcased. But Shroud also says that what is important is to learn from the mistakes so that they do not repeat themselves.
"… It's not a huge deal at all. You live and learn, right? But just thinking about it… I'm assuming in the future something like that won't happen again."
ADVERTISEMENT
Article continues below this ad
Now, these are some of the most important words spoken about this whole incident. Because let's face it, it is tough for the fans, but it is way tougher for the team itself. We agree that the best course for TenZ is to locate what went wrong and ensure it does not repeat. Our best wishes to the team, and congratulations to BBG on their performance!