Valorant: TSM Signs Brax as the Sixth Player of its Roster
Published 04/01/2021, 3:46 AM EDT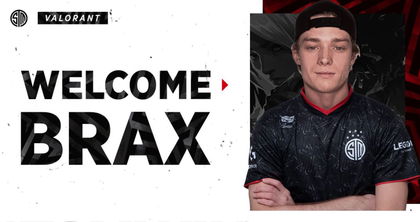 ---
---
Although a relatively new addition to the roster of eSports FPS titles, Valorant has already built a globally competitive ecosystem. Riot Games has been pushing hard to raise the competitive stature of its tactical FPS to the same level as its iconic MMORPG League of Legends.
ADVERTISEMENT
Article continues below this ad
Valorant is currently on the way to its first-ever global championship as well. Along with this, we have a lot of iconic eSports organizations gearing up to make their name in the game.
Speaking of which, major eSports organization TSM just made a notable addition to its roster. As of now, TSM has had a five-person Valorant roster. However, confirming the ongoing rumors, the organization has signed Braxton "brax" Pierce as the sixth person on the roster.
ADVERTISEMENT
Article continues below this ad
Further reading: Fortnite Chapter 2 Season 6 is About to Get a Batman Makeover and More
The official Twitter handle of the team posted a tweet announcing this yesterday.
The Valorant community has been speculating about this for a while now. With Brax's addition to the roster, the team now has three duelists.
Further reading: Violence. Speed. Momentum.: Take a Peek Inside The World of Dr Disrespect
Brax joins TSM's Valorant roster as a rotational player
ADVERTISEMENT
Article continues below this ad
The former CS: GO champion had received a ban from Valve back in 2014 following match-fixing allegations. Subsequently, the player joined the T1 Valorant roster, where he proved to be invaluable during the early days of the game. However, due to a decline in his performance, T1 let him go.
And now, Brax is off to a fresh start at the hands of TSM. The team will be preserving its original Sentinels lineup, with Brax as the sixth man on the roster. However, the team already features two duelists, Taylor "drone" Johnson and Matthew "WARDELL" Yu. With Brax in the mix, looks like one of them might have to alter his role.
TSM plans on attempting a comeback by leaving no stone unturned. With Brax as the sixth-man, the roster is now ready to take risks and take on challenges.
ADVERTISEMENT
Article continues below this ad
In all honesty, the recent performances that the organization has delivered have not been very impressive. With this move, the team is optimistic about taking it back to its glory days. We wish TSM all the luck!