Victoria Azarenka and Aryna Sabalenka Sent Out Tokyo Olympics 2021 Warnings After Claiming WTA Berlin Title
Published 06/20/2021, 9:01 AM EDT

Follow Us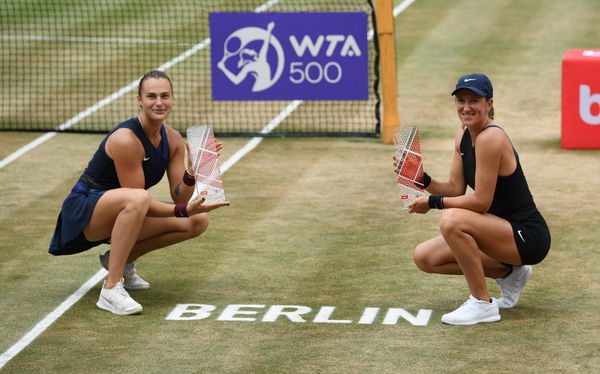 Victoria Azarenka and Aryna Sabalenka won their first doubles title as a team at the WTA Berlin 2021. They were the fourth seed and defeated the number one seed Nicole Melichar and Demi Schuurs.
Azarenka and Sabalenka both have said that they will be playing in the Tokyo Olympics 2021 and will represent Belarus together.
"We both brought a different level, mindset than a few years ago. It was important to play together to feel each other's game, see what we can try, apply what works, what we can work on. Our priority is singles, but it's a great opportunity at the Olympics to team up,"
Azarenka said.
ADVERTISEMENT
Article continues below this ad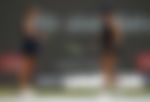 Tough first set for Victoria Azarenka and Aryna Sabalenka at WTA Berlin 2021
In the first set, tennis was disciplined as both the pairing rarely gave away any points on their serves. At 1-1, both the teams had love holds and looked solid. Melichar and Schuurs looked a bit shaky while serving at 1-1, however, they held it comfortably. At 3-3, Azarenka and Sabalenka had taken two points of their opponents' serve whereas Melichar and Schuurs had taken just one.
However, Azarenka and Sabalenka were the first to falter and lost their serve at 3-3. It was a slip-up that looked odd, as they had played well. From here Melichar and Schuurs continued to dominate and served for the set at 5-4. They continued ahead and served out the set, 6-4.
Azarenka and Sabalenka make a good comeback to claim the title
ADVERTISEMENT
Article continues below this ad
The second set began like the first set. Break points were hard to get as rallies were also small. Until 2-2, Azarenka and Sabalenka had a slightly better first-serve percentage, however, their returns were poor. The set quickly reached 3-3 with no break points.
At 4-4, it was a pressure situation as Azarenka and Sabalenka knew one wrong game could send them packing. But they held on to lead 5-4. From the other end, Melichar and Schuurs were quickly through with their service game and the pressure was back on the Belarusian pairing. Azarenka and Sabalenka held their serves and led, 6-5. Here Melichar and Schuurs and an unusual game and lost their serve to give the set to Azarenka and Sabalenka, 7-5.
From being favorites, Melichar and Schuurs were put in a spot of bother. In the third set 10-point tiebreaker, Melichar and Schuurs won just two points on their serve, as they were beaten by Azarenka and Sabalenka, 10-4. The full scorecard read – 4-6, 7-5, [10-4].
ADVERTISEMENT
Article continues below this ad