Video: Ahead of Doubles Match, Fedal Discuss Strategy with Borg
Published 09/23/2017, 6:35 PM EDT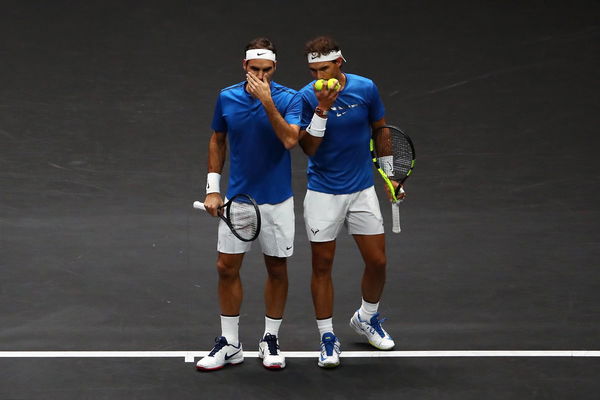 ---
---
Ahead of their matchup against Jack Sock and Sam Querrey, Rafael Nadal and Roger Federer sat down with Bjorn Borg for a strategy meeting. The three were seen deep in conversation along with Tomas Berdych. Unsurprisingly, Twitter could not handle itself at the sight of 3 legends sharing the same space. More importantly, Fedal were united for the very first time.
ADVERTISEMENT
Article continues below this ad
Who's going to play on the deuce court? Who should take priority for volleys down the middle? Should Federer stand at the net when Rafa is serving? Those were the questions being pitched by the 4 players. Federer said that he preferred when the left-handed player was on the outside. Borg agreed with the Swiss ace. Nadal chimed in saying that he was comfortable playing on both sides.
Roger asked Rafa if he preferred going at the back while returning or being at the net. Rafa said "I prefer you at the back because I feel when you're back I can hit both sides. When I hit a normal ball to the net guy, they need to hit a great volley to finish the point."
Nadal stressed on staying back but not both of them at the same time. He continued, saying that their opponents hit strong and they have the full court. Their main tactic would be to be unpredictable in their game.