Video: Mitchell Johnson bowls magic delivery to Cheteshwar Pujara
Published 12/30/2014, 3:02 AM EST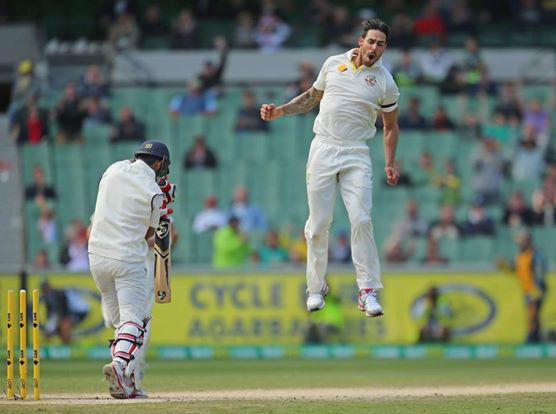 ---
---
A ripping delivery with turn more associated with a spinner broke open the tourists' batting on the fifth afternoon. Mitchell Johnson produced one of the balls of this Commonwealth Bank Test series late on the final day of the Boxing Day Test. The left-armer clean-bowled Cheteshwar Pujara with a brilliant off-cutter that turned past the Indian's bat and hit the top of off-stump.
ADVERTISEMENT
Article continues below this ad
According to the ball-tracking technology, the delivery deviated 37cm after pitching.
Mitchell Johnson used the classic two-card trick, forcing Pujara back with a series of short balls before delivering the knock-out punch in spectacular fashion.
Bowling wide on the crease from around the wicket, Johnson pitched the delivery on off-stump and Pujara, not surprisingly, played as if he expected the ball to continue on its path towards middle and leg stumps.
But the deviation off the day five surface saw the ball beat his forward push and hit the off stump.
It was a delight for cricket lovers to see the dismissal.