VIDEO: Shane Warne's Ball of the Century to Mike Gatting
Published 06/04/2015, 2:52 AM EDT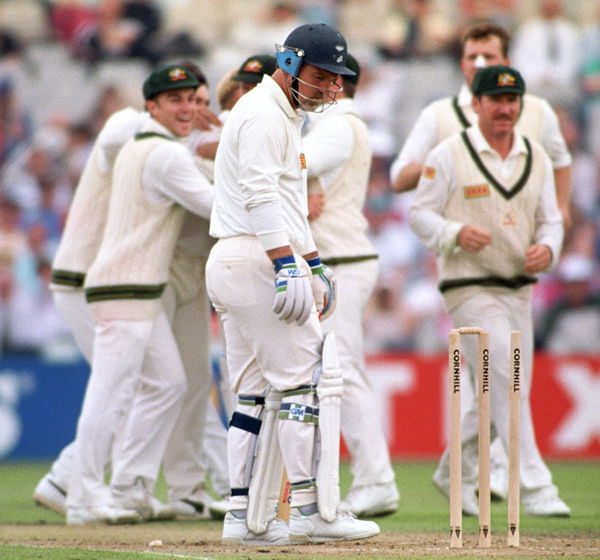 ---
---
Mike Gatting must have been licking his lips when he would have seen a plump looking blonde leg spinner coming on to bowl during the first test of 1993 Ashes Test Series at Old Trafford, Manchester. He had just came into bat and the most inexperienced bowler was coming on to bowl, who had shown some promise but nothing so great that someone's of Gatting's class should have been worried. The bowler was, and as we all know it, Shane Warne.
ADVERTISEMENT
Article continues below this ad
Warne had played 11 tests before this match and had taken 31 wickets at a moderate average of 30.80. This was his first Ashes test, and also the first one in England but what he did with his very first ball in Ashes was a sign of legacy he'll leave once he retires from the game. 22 years later, the 'ball of the century' is still talked about with equal shock and awe among the cricket fans.
Richie Benaud's words "Gatting has absolutely no idea of what has happened to him. And he still doesn't know", explained how puzzled Gatting on being dismissed by Warne.
ADVERTISEMENT
Article continues below this ad
Warne, with his slow run up delivered a bowl which pitched outside the leg stump, and was very slow through the air. Gatting pushed his left leg forward towards the pitch of the ball, and pushing his bat next to his pad. But the ball spun more than expected and passed Gatting's bat to clip the bails of off stump.
Gatting stared at the pitch for several seconds, before accepting his fate and walking off the field. The dismissal was captured in a photograph by Steve Lindsell, in which Gatting is in shock, while wicketkeeper Ian Healy raises his arms in celebration behind and Gatting's off bail spins somewhere above his head.
"It came down in a great area for him and it did spin an awfully long way from two or three inches outside leg stump. I stood there because I didn't hear the death rattle, then looked around and thought 'blimey, there's a bail on the floor'." said Gatting.
Warne said later about the delivery, "In the space of one delivery so much had changed. My confidence was sky-high. I was pumped up and rock'n'rolling."
ADVERTISEMENT
Article continues below this ad
Watch Mike Gatting talk about the Ball of the Century and explain how he considers himself lucky to face it.
And now hear the magician himself talk about the delivery:
ADVERTISEMENT
Article continues below this ad
https://www.youtube.com/watch?v=rOVei8iTyM8