VIDEO: When Josh Thomson Became The First Person To Knockout Nate Diaz
Published 12/29/2019, 4:14 PM EST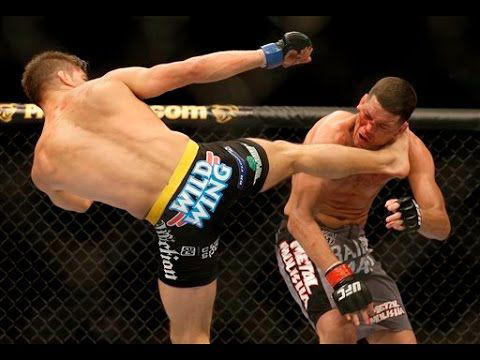 ---
---
The Mixed Martial Arts (MMA) record of Nate Diaz reads 20-12, and only 2 of those losses have come via a knockout.
ADVERTISEMENT
Article continues below this ad
After the 25 pro fights in his career, Diaz's record boasted about not having a single KO loss in it. However, it changed when Diaz faced Josh Thomson at UFC on Fox.
When Josh Thomson knocked out Nate Diaz for the first time
ADVERTISEMENT
Article continues below this ad
In April 2013, Nate Diaz and Josh Thomson were ut up against each other. The fight had gone into the second round with Diaz taunting Thomson right from the beginning.
At around the half-way mark in the second round, Thomson brought out a head kick and kept punching Diaz.
Three minutes and 44 seconds into the second round, referee Mike Beltran stopped the contest and declared Nate a loser by KO. For the first time in his career, Nate Diaz was knocked out of a UFC fight.
Nate Diaz vs Josh Thomson (2014)
What is more special about the win for Thomson is that it had come after nine years. He had last won a UFC game in 2000.
ADVERTISEMENT
Article continues below this ad
Thomson has now fought 32 times in his MMA career. After a drought in the middle, his wins picked up later. Currently, his win-loss record stands at 22-9.
Pro Careers of Diaz and Thomson
Apart from UFC, Thomson has competed in PRIDE, Strikeforce, the World Fighting Alliance, and appeared at Dynamite in his 19-year career. Thomson is a former Strikeforce World Lightweight Champion and a former Strikeforce U.S. Lightweight Champion.
ADVERTISEMENT
Article continues below this ad
Nate Diaz, meanwhile, has started his pro career in 2004. After initially fighting in the Lightweight category, he became Welterweight in 2015. Diaz has featured in 32 fights, winning 20 out of them. He has only one knockout loss other than that to Thomson. Nate has lost the majority of his fights by decision and only one by submission.
Diaz is tied with Joe Lauzon for the second most UFC bonus awards