Vimal Kumar backs Jwala-Ashwini demand to have specialist Doubles Coach
Published 06/09/2015, 2:22 PM EDT
By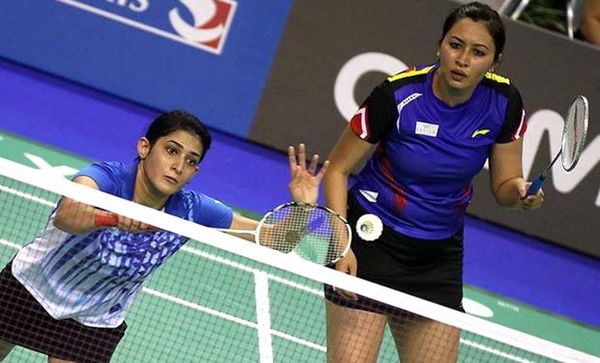 Former National coach Vimal Kumar feels that India needs a foreign specialist Doubles coach. Vimal Kumar, who now coaches Indian ace Saina Nehwal, said- "Doubles is Being Neglected In India & says it's a high time that we should hire a foreign player to coach doubles."
ADVERTISEMENT
Article continues below this ad
"If you want to be a badminton superpower we need to find the balance between Doubles & Singles." Vimal Kumar said. "We've one or two good pairs but that is not enough. If a foreign player takes over double programme with Indian assisting, that would be ideal." He added.
When we compare Singles with Doubles, Doubles is certainly lagging behind. India has some good players in singles Event, for instance, players like K. Srikanth (3), P. Kashyap (12) & HS Prannoy (13) feature in top 20 of the World Rankings in Men's category. Similarly in the Women's class we have the former World no. 1, Saina Nehwal (now 3) & PV Sindhu (14) in top 20 players of the World. But In Mixed doubles & Men's Doubles we do not have any pair featuring in top 20, it's the lone pair of Jwala Gutta & Ashwini Ponnappa (17) that continuously appear in Top 20 of the Women's Doubles Category.
ADVERTISEMENT
Article continues below this ad
Jwala & Ashwini have been requesting & protesting to have a specialist doubles coach from long time. India's last specialist Doubles coach was Indonesian Edwin Iriawan, who left in 2013. It was under Iriawan & his predecessor Atik Jauhari, that the pair had their best results including their Gold in 2010 CWG & Bronze medal in 2011 World championships. Despite of not having specialist doubles coach for almost 2 years, the duo has performed well, they won Bronze medal both in Uber Cup & Badminton Asia Championships. They also won a silver in the CWG last year.
ADVERTISEMENT
Article continues below this ad
India's best Doubles pair of Jwala-Ashwini were recently hit by a controversy again when they were not included  in the list of 39 Players for Govt's TOP(Target Olympic Podium) scheme, that would receive Govt. Funding for 2016 & 2020 Olympics. Country's best Doubles pair also didn't find a place in the list of players when it was First introduced in April, to which the pair reacted strongly by going public about the issue.
Jwala questioned the decision -"the players who are already having lot of corporate support are in the list & Ashwini & me were not considered. Kind of tired, kind of disappointed. And if we speak against it, its called cribbing & if we don't we will be just left out."
In May 2014, Badminton Association of India's President, Akhilesh Dasgupta said they've asked BWF help to pick doubles coach. He said-"We spoke to the BWF President & Secretary general about it & asked for their help. They said they will get back to us with a few names. We are waiting for their response. There are a number of teams who have good doubles players. So, the coach could be from any country Japan, Denmark or Korea but Danish is a real possibility"
ADVERTISEMENT
Article continues below this ad
But it looks like nothing has happened after that.
Vimal Kumar admitted that there is a lack of role models in doubles to inspire next generation & BAI needs to be proactive. He said-"not too many player come up to me & tell me they want to become doubles stars. Specialized attention is needed for doubles players & the administration should be more proactive to fix this. We know it's a problem high on agenda but we must act."
Doubles plays a vital role in team competition such as Uber Cup, Thomas Cup, and Sudhirman Cup, also in team events of Asian & Commonwealth games. They make majority of events in team competitions & can be crucial for team performance. Expecting players to win medals in Olympics & other International events without providing a specialized coach cannot be justified. If they can bring medals in this situation, imagine what they'll do when provided with the basic facilities. Providing a specialized coach is bare minimum that players are asking for & it's high time for BAI to address this issue, if India wants to become a sporting superpower in Badminton.