'Violence. Speed. Momentum.' by Dr Disrespect is a Best Selling Minecraft Guide
Published 04/04/2021, 1:46 PM EDT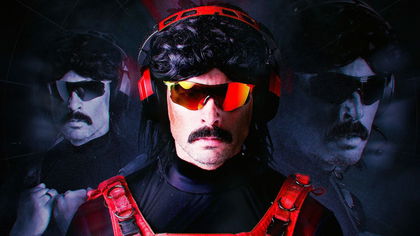 ---
---
Dr Disrespect is undoubtedly one of the most well-known faces in the realm of streaming. The Two-Time has been in the scene for a long time and has had unfaltering popularity since the very beginning. He has seen his share of glory during his career, as well as some of the darkest days of it. With a career as long as his, he must have had some very interesting stories to tell. Recently, Doc released his first-ever book, a memoir that encapsulates his journey as one of the most iconic names in the streaming circuit.
ADVERTISEMENT
Article continues below this ad
His book, 'Violence. Speed. Momentum.', contains some of the most intimate details of the Doc's life and his career. Written in the voice of Doc, this book is actually quite an enjoyable read. In the book, he follows the format of superhero films and takes it up a notch by providing three origin stories of himself, each in a different dimension. And this is just one of the many whimsies you can find in this book.
Dr Disrespect has been dedicating most of his recent streams to his book. On one such recent stream, Doc found out something quite odd and hilarious at the same time. He just found out that his book is, in fact, one of the best Minecraft Guides available out there. Or, at least, that is what Amazon says.
ADVERTISEMENT
Article continues below this ad
Further reading: Violence. Speed. Momentum.: Take a Peek Inside The World of Dr Disrespect
'Violence. Speed. Momentum', the memoirs of Dr Disrespect, is one of the best Minecraft Guides
The Two-time, to his surprise, recently discovered that his memoir is currently available on Amazon under the category of Minecraft Guides. Furthermore, it is also the #3 best-seller in the category. The iconic streamer posted a clip of his discovery on Twitter as well.
ADVERTISEMENT
Article continues below this ad
While this is obviously a mistake on the part of Amazon, we have to admit; it is quite funny. More so because Doc has nothing to do with Minecraft, neither does he stream this game like Pewds, and others.
Minecraft Guides can be quite necessary for people with an inclination towards innovation. However, if you stumble upon this while looking for one, we suggest you go for it anyway. You won't regret it!
ADVERTISEMENT
Article continues below this ad
'Violence. Speed. Momentum', the autobiography of Dr Disrespect, has already smashed sales records within weeks of its release. This book was meant to be some sort of Holy Grail for his fans since it contains some of "the deepest, most intimate secrets" of the Two-Time's career. According to the man himself, this book narrates "the untold history of his mysterious, legendary origins and his rise to unparalleled dominance. And most of all, you will find out what, exactly, Doc's a doctor of."