Australian Man Fined $1500 After Surfing Waves With Pet Python Goes Awry
Published 09/18/2023, 4:21 PM EDT

Follow Us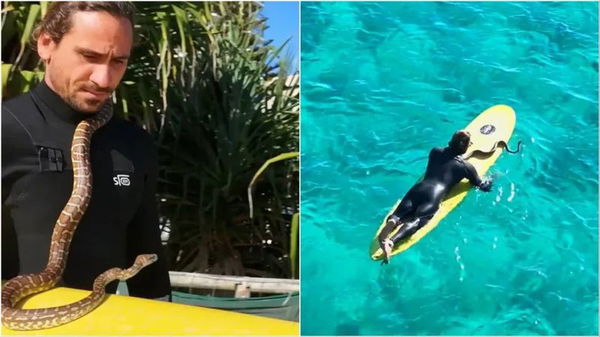 An Australian surfer's ride captivated the Gold Coast and beyond in a daring escapade. A fearless man named Higor Fiuza was recorded surfing while embarking on an unusual aquatic adventure. With his pet python coiled around his neck, they continued riding over the waves in swift moves. 
America's Favorite Video Today
After a video showcasing their incredible surfing skills went viral, the daring duo became the talk of the town. The Aussie surfer and his beloved carpet python, Shiva, became an unexpected internet sensation overnight. However, this audacious stunt did not go unnoticed by Australian wildlife authorities, causing hefty consequences. 
A Bizarre and Controversial Surfing Session
ADVERTISEMENT
Article continues below this ad
Higor Fiuza's impromptu surfing session with Shiva quickly turned heads, with social media users showing concern. A remarkable display of courage portrayed the duo taking a trip to the azure waves of Australia's coast. Carving through the surf, Higor was seen challenging the ordinary boundaries of the usual surfing tricks. 
But behind this captivating escapade was an issue of legality. Queensland's Department of Environment and Science revealed that Mr. Fiuza did not possess the necessary permit for his actions. He displayed his slithery friend in a public setting without any permission from the authorities. This violation shook Higor with a hefty price tag; a fine of A$2,322 ($1,500). 
Wildlife officer Jonathan McDonald emphasized the significance of this permit. He also highlighted the potential stress on the python and its unpredictable behavior in such a scenario. "The python would have found the water to be extremely cold, and the only snakes that should be in the ocean are sea snakes", he remarked. 
Regulations in Reptile-Human Encounters
After facing a severe fine, Mr. Fiuza shared a different perspective on the incident. Claiming his python, Shiva adored being near water, Higor elaborated about surfing together on several occasions. "I always took her to the beach, and she loved to be in the water swimming," the surfer asserted. 
ADVERTISEMENT
Article continues below this ad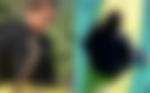 Providing feedback will help us make your experience better.
Enjoyed Your Read? Let us know how likely you are to recommend EssentiallySports to your friends!
Shiva's incredible adaptability to the ocean environment surprised many. The python never hissed a note of protest when the waves danced around her. Her temperament poses challenges to conventional wisdom about reptilian behavior. Nonetheless, Higor's surfing activity was countered by many, unfolding a lesson in reptile handling. 
ADVERTISEMENT
Article continues below this ad
Higor Fiuza's tale of surfing with his serpent Shiva added a valuable lesson in wildlife regulation. With Shiva's aquatic adventures continuing to astound and amaze, this peculiar chapter comes to a costly end. The quirky incident left people pondering the unexpected surprises that await in adventures.
Watch this Story: Red Bulls Top 5 Surfing Techniques: Expert Advice And 'How-To' Insights From Josh Kerr