Virat Kohli defends MS Dhoni after World Cup semi-final Loss
Published 07/10/2019, 1:08 PM EDT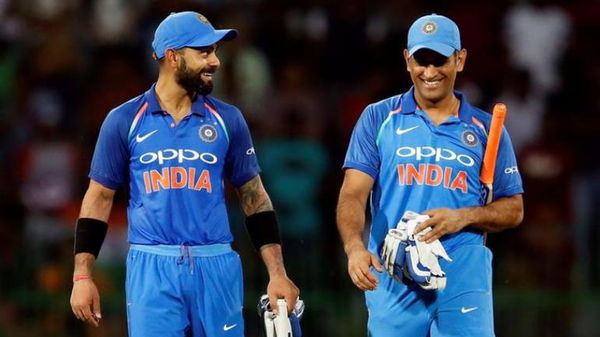 After a disappointing exit from the ICC Cricket World Cup 2019, Indian captain Virat Kohli backed his former captain, Mahendra Singh Dhoni and said he did a great job  of holding one end up.
" I think today he was batting with (Ravindra) Jadeja and there was only Bhuvi to follow after so he had to hold one end together in my opinion and because Jadeja was playing so well you needed a solid partnership," he was quoted saying in the post match press conference. "And to get 100 partnership from that situation, I think it had to be the right balance of one guy holding an end up and (Ravindra) Jadeja playing the way he did, his knock was outstanding," he added.
When asked about the media's criticism on Dhoni's slow strike rate, Kohli said that it is always easier to look from the outside. "Well, look, it's always, you know, a safer option to look at it from outside and say, 'Maybe this could have happened'," he said.
The Indian captain also said that things are looked differently when the team loses a match and praised Jadeja and Dhoni's partnership saying they managed "perfect tempo" in the situation. "When you don't win in hindsight, a lot of things can reflect in different manners but you have to understand how the game panned out and until what stage did the game go. And you would obviously expect New Zealand to fight back at some stage because the target was steep after losing five or six wickets, but the way they (Jadeja & Dhoni)  batted together, I think it was the perfect tempo for that situation, according to me.
India were reduced to 71 for 5 when Dhoni walked in and people thought he could have come higher up the order. When asked about it, Kohli said that the role suited him and he could act according to the situation. "Well, he's been given that role after the first few games of being in a situation where he can, if the situation's bad, he can control one end like he did today or if there is a scenario where there are six or seven overs left he can go and strike," he said.