Virat Kohli reprimanded by BCCI for his abusive behavior
Published 03/05/2015, 10:44 AM EST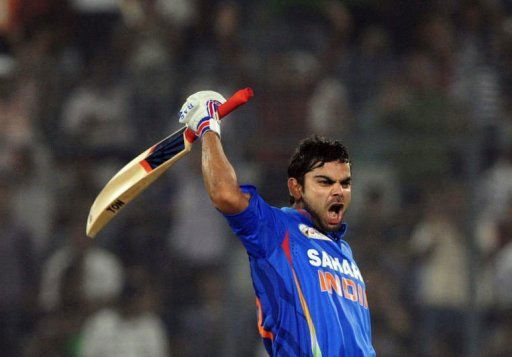 ---
---
Star batsman Virat Kohli always had the glare of publicity since he stepped into the Indian Cricket team. Known for his fearsome batting and stroke-filled play, his anger issues had been always under scrutiny. A talented young lad who has often involved himself in controversies due to his short temper, is once again jammed into another act of ill behavior.  The incident which took place on Tuesday saw Kohli abusing an Indian reporter, which later emerged to be a case of mistaken identity.
ADVERTISEMENT
Article continues below this ad
The BCCI has officially responded to the controversy and reproved Kohli for his behavior and asked him to "maintain the dignity of the team" and avoid such incidents in the future. To quote and unquote BCCI secretary, Anurag Thakur, "Kohli has been asked to maintain the dignity of the team". The Board has firmly asked the Indian Team Management to make sure that such incidents don't happen in the future.
BCCI's opinion on the controversy comes a day after Team Management tried to tone the incident down apart from denying it. It was only after the newspaper decided to write to BCCI and when the reporter filed a complaint with ICC, the BCCI officially responded to the issue. Thakur urged the concerned parties to move on and focus on the team's World Cup campaign.
ADVERTISEMENT
Article continues below this ad
A report published in the Hindustan Times described how Kohli "continuously pointed his finger" on the reporter and repeatedly abused him in hindi. The publication, however has decided not to involve any further on the subject. "In the interest of Indian Team, we do not wish to take this matter any further," Sukhwant Basra, Hindustan Times' sports editor stated.
Former Indian batsman VVS Laxman and Sunil Gavaskar admitted that it has never been easy to cope up with the media, but then such things tend to happen and a player like Kohli shouldn't pay heed to all this and focus on cricket. West Indian legend Brian Lara also felt that Kohli and media should move ahead.
ADVERTISEMENT
Article continues below this ad
This incident has once again raised some serious questions on Kohli's conduct which is definitely not good for him as well as the team in the long run. India's Test Captain needs to keep his nerves calm and focus on his prime duty.
edited by Bhavna Rachuri
ADVERTISEMENT
Article continues below this ad