When Virender Sehwag wanted to become Sachin Tendulkar
Published 04/30/2017, 3:54 AM EDT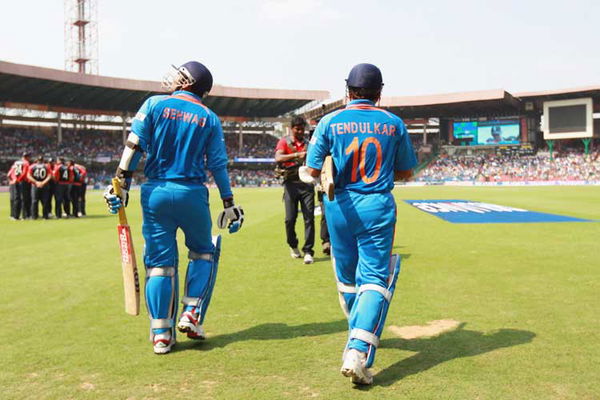 ---
---
As we think of the most destructive batsmen in the cricketing world, Virender Sehwag ought to be there in the list. Through the glorious years of his career Sehwag had earned himself a reputation of a power hitter. He was a little different from his teammates, he had a lazy footwork yet brilliant timing, Sehwag was a doctor who mastered the drives and had a specialization in the upper cut and pulls.
ADVERTISEMENT
Article continues below this ad
Like every budding cricketer in India, he too idolized Sachin Tendulkar and was one of the lucky few who got an opportunity to play alongside the God of cricket. But soon Sehwag realized that he could never become like Sachin, all he could do was become the best Sehwag he could and well he did that magnificently well.
ADVERTISEMENT
Article continues below this ad
The Nawab of Najafgarh, as he has been fondly known, left everyone awestruck when he entered the field about two decades ago. There was a lot of Sachin within Sehwag. His stance had an uncanny resemblance to that of the Master Blaster. Some of the strokes Sehwag would play would leave the fans awestruck and even Tendulkar beam with pride. However as time passed Sehwag had his own learning and soon he had carved a niche for himself in world cricket setting and breaking records in his own destructive way. In Tests Sehwag became the first Indian batsman to score a Triple hundred and he is still the only Indian to score two. In ODI's he had his own exploits and followed his master scoring a double century which was once the highest score in ODI's. He ended up with 38 international tons and left a mark only as Virender Sehwag could have.
ADVERTISEMENT
Article continues below this ad
Currently the former India opener is serving the IPL franchise of Kings XI Punjab as the team's director of cricket Operations. Under his vision and mentorship there have been some spirited and inspiring performances. Under Sehwag's influence the team looks to be in a different shade. Seems Viru has tasked himself with building the mental strength of the young guns in the team. Not only have the big names of Glenn Maxwell and Hashim Amla performed but there have been some inspiring performances from young Indians like Manan Vohra and Axar Patel.
Vohra has been particularly impressive this season, but there is always a danger of trying to be like players around you especially when you are placed in a line up packed with giants in international cricket. And Sehwag knows this very well for he has been through all of it and here he distributes his wisdom in an interview with India Today.
"I tell them only one thing. For example, Manan Vohra can bat like Manan Vohra only, not like Virender Sehwag or Glenn Maxwell.
ADVERTISEMENT
Article continues below this ad
"A youngster needs to know his strengths and weakness; then it becomes easier to bat or bowl. I also wanted to become Sachin Tendulkar, but I quickly realised that I can't be.I couldn't perform like him or play shots like him. I figured that I have to create my own identity and so I have to play like Virender Sehwag. I tell them that you can learn from other players, but you can't copy from them or be them. You can (only) be you," Sehwag said.
The 23-year-old Vohra has been one of the brightest spots in the KXIP line up. But youngsters like T Natarajan and Sandeep Sharma are also shaping up. Well this statement from Sehwag assures one thing that he is not just all quick wit, humour and a free willed batter but also a box of wisdom. Hopefully, Indian Cricket benefits from this version of Virender Sehwag.