"All we want is consistent support – in our wins as well as losses"-Satyawart Kadian
Published 01/14/2017, 4:30 AM EST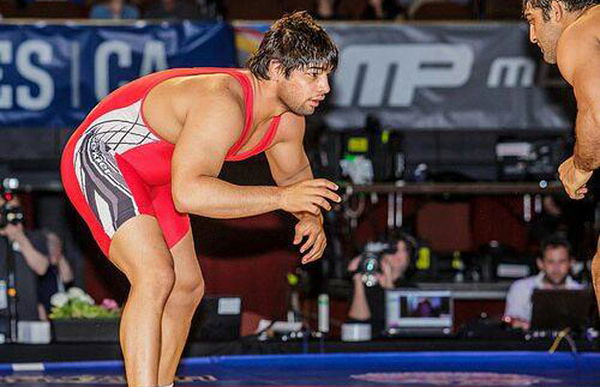 ---
---
EssentiallySports had the privilege of attending the ongoing Pro Wrestling League and had the honor of interviewing Satyawart Kadian, the 2014 Commonwealth Silver Medalist in 97 kg category and fiance of the 2016 Olympic bronze medalist Sakshi Malik.
ADVERTISEMENT
Article continues below this ad
Currently, he is a part of the Delhi Sultan team participating in the Pro Wrestling League.
Question: Sir your father is an Arjuna awardee himself. While wrestling may have come naturally to you, how have you sustained under this pressure of expectations to emulate his success?
ADVERTISEMENT
Article continues below this ad
Answer: My father is my role model. He brought me to the world of wrestling. Naturally the expectations were very high. People used to proclaim about how they wanted to see Satyavan (his father)'s son play and initially I did feel very jittery.
But gradually as my performances improved, the pressure subsided and instead other people started feeling the pressure. My performances boosted my confidence and wrestling became my very own.
Question: What is the media's role in creating awareness about the game?
Answer: It must be realized that media plays a very important role in bringing us to the fans. We all know how well cricket is celebrated in the country. If the media takes the initiative and highlights our success properly, we will do better than cricket. We are playing so well in front of international champions and medallists.
Movies like Dangal and Sultan have set the stage for wrestling. It really now is in the hands of the media to present our achievements forward and it will help consolidate our march towards better performances.
Question: Obviously, there isn't enough money in the game yet – a big reason behind many youngsters' hesistance. How are JSW, OGQ and even PWL bridging this gap?
Answer: All these organizations are doing a terrific job. Earlier there was no support as such. Now JSW and OGQ have come up and they have been extremely instrumental in our success. All the new kids need this kind of support environment to grow with the right frame of mind and focus only on performing well.
Diets, trainings and tournaments – all the information is provided and we receive the right care. I would hope more such organizations come forward and give wrestling the impetus that it needs today.   
Question: Sir, there is so much controversy over doping and wrong medication in the Indian contingent. Understandably, no sane individual will take such medication knowingly, yet these incidents continue to happen. Could you give us an insight about this pressure?
Answer: See the sad news is we have very less knowledge. Even the dieticians that are provided by the governments are unaware of these banned substances. WADA and NADA, both have separate lists of banned medication and drugs that is updated regularly. Very few people in the country actually know about these substances.
This really isn't much of an athlete's fault. What we need is knowledge and education. All our doctors, supplements and dieticians should have full understanding of our bodies, its demands and shortfalls. For us these services are extremely important and should be considered top priority in grooming and nurturing talent.
Question: How can the supporters in this country consolidate your own belief to win a medal for our country?
ADVERTISEMENT
Article continues below this ad
Answer: We have been getting at least one medal since the last three Olympics. Tokyo will be no different. Though our focus is to improve the medal tally and increase the number of qualifications.
In this journey, we expect the media and the fans to have a positive attitude towards us. More often than not, fans turn against us if our performances aren't up to the mark. Every bout we lose is watched closely and criticised by those, who won't even stand a second on the mat. The backlash following Yogeshwar Dutt's loss at the Olympics was extremely disheartening. A man who has brought us so many laurels doesn't deserve such media bashing.
All we want is consistent support – in our wins as well as losses and we promise to give our best. Just don't lose faith in us.
ADVERTISEMENT
Article continues below this ad
We would like to thank Delhi Sultans for providing us with this opportunity and Satyawart Kadian for sparing a few minutes of his time for this interview. We wish you luck for all your future endeavours and hope that you keep making India proud at the Wrestling arena.