Warriors Player Reveals How Klay Thompson Was Upset After Disastrous Loss Against Raptors 
Published 04/03/2021, 12:48 AM EDT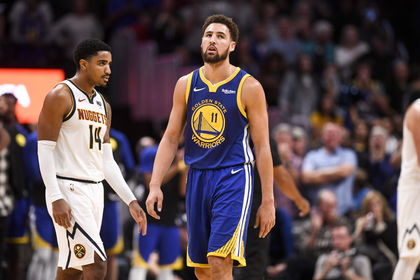 ---
---
The Golden State Warriors suffered their second-worst defeat in franchise history tonight. It came at the hands of the Toronto Raptors, who won 130-77. Although the Warriors were missing their two most important players, it was still an inexcusable performance.
ADVERTISEMENT
Article continues below this ad
During the post-game interview, shooting guard Kent Bazemore talked about how the veterans, Stephen Curry, Draymond Green, and Klay Thompson, especially, were hurt after this loss.
Bazemore said, "It's a hard pill for them to swallow. We talk about, these guys, five straight Finals appearances. This is, by any means, not acceptable by them at all. This hurts them more than anything. Klay was fired up after the game."
ADVERTISEMENT
Article continues below this ad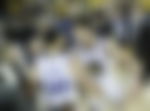 The Warriors were a dominant team in the NBA from 2015 to 2019. They had five consecutive Finals appearances, including three triumphs. But since their last one in 2019, which ended in defeat, the Warriors have been on a downward spiral. They finished rock bottom in the following season, and this season has hardly been better.
Tonight's loss was a tough one. They came into the game with Curry and Draymond missing so they already had their work cut out. Their offensive struggles began right from the start and they failed to get going.
They shot just 32% from the field as a team which is beyond embarrassing. The Raptors were up by 60 at one point, but it ended in a 53 point defeat.
Can the Warriors resurrect their season or is it already over for them?
The Warriors are currently the 10th seed in the West. Finishing 10th would get them into the play-in tournament, but qualifying as the lower seed is tough. However, they might finish lower with the Kings, Pelicans, and Thunder closing in on them. If they continue this slump, the Warriors could slide back into a similar position as last season.
ADVERTISEMENT
Article continues below this ad
Curry's MVP form has kept them in the playoff hunt, but a lack of support from the rest is not helping their cause. Their weak depth has also been a major reason for their poor displays.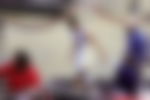 With 23 games left to go, the Warriors' season could be over. The best they might be able to do is qualify as a lower seed for the playoffs but nothing more. If the losses continue to pile up, the senior players might be rested and they will once again take their hopes to the lottery.
ADVERTISEMENT
Article continues below this ad