Was Dr Disrespect the Reason Behind TimTheTatman Leaving Twitch?
Published 09/02/2021, 5:30 AM EDT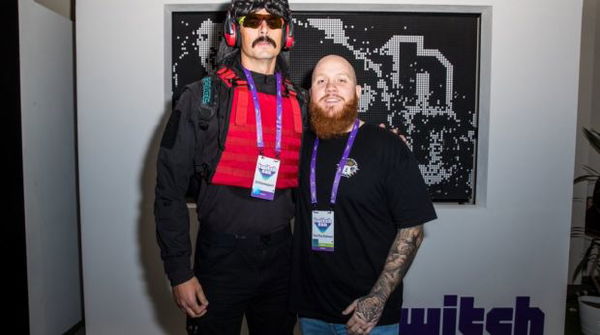 ---
---
A major streaming lineup shuffle happened recently with one of the biggest content creators switching sides. American streamer TimTheTatman announced yesterday that he has left the purple platform of Twitch shocking a lot of fans. He has now joined YouTube Gaming and will now stream exclusively on the Google platform with other creators like Courage and many more.
ADVERTISEMENT
Article continues below this ad
Tim's decision to join the red platform has surely sparked a lot of conversation. Many fans have theorized that his departure from Twitch might have something to do with its many issues. This includes its poor handling of former creator Dr Disrespect who recently announced his plans to sue the platform. So has Doc influenced Tim to join forces with him on YouTube Gaming?
ADVERTISEMENT
Article continues below this ad
TimTheTatman and Dr Disrespect's close bond
For the past few years, TimTheTatman and Doc have shared some great camaraderie with each other. Before his exit from Twitch, Dr Disrespect played a lot with his friend on games like Call of Duty: Warzone, Valorant, and many more. Fans loved the energy between the two of them and whenever they paired up, everyone knew that they would do something hilarious.
However, following his mysterious exit from Twitch, fans haven't seen Doc play with Tim at all. As the Two Time can't play with any Twitch creators, fans of both streamers have missed out on some great moments between the two. Following Doc's announcement to sue the platform for damages, Tim even gave a heartfelt message to his friend as he misses playing with one of his favorite people from the industry.
ADVERTISEMENT
Article continues below this ad
Tim and Doc have now reunited
A few days after he talked about missing time with Doc, TimTheTatman joined YouTube Gaming. He now joins the likes of DrLupo who also recently shifted from the purple platform. With his arrival on the red platform, Tim can now stream with Doc whenever he wants on games like Warzone and many more.
It's unclear whether Dr Disrespect played a major role in Tim's departure from Twitch. However, it seems like spending time with Doc on streams definitely played a huge factor in TimTheTatman's decision to stream exclusively on his YouTube channel.
ADVERTISEMENT
Article continues below this ad
With Tim streaming exclusively on YouTube Gaming, players can now see him pairing up with Doc, Courage and many more. He now won't have to restrict himself from playing with his friend because of Twitch guidelines, and it sure looks like fans are about to see the return of an era long forgotten.
WATCH THIS STORY: Top-Selling PlayStation, Xbox, and Nintendo Consoles of All Time
Trending Stories