WATCH: Alexander Zverev Consoles Roger Federer as he Breaks Down in Tears
Published 12/18/2019, 6:32 AM EST

Follow Us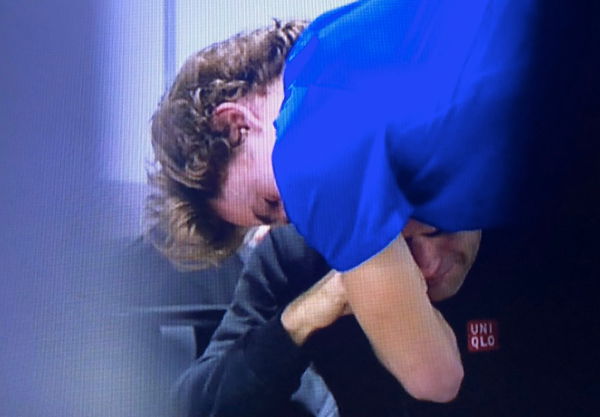 Roger Federer admitted in the recently released ESPN documentary 'Roger Federer: Everywhere is Home' that he had a breakdown following the cancellation of the exhibition match with Alexander Zverev in Bogota.
ADVERTISEMENT
Article continues below this ad
Federer is seen walking back to his locker room. In one of the most emotionally charged segments from the documentary, he breaks down into tears and is hugged by an equally emotional Zverev.
Watch – Roger Federer Breaks Down In Columbia After Cancellation Of Match
ADVERTISEMENT
Article continues below this ad
"We went to warm up and were having a blast on the court, but then everything started to get a bit crazy,"  Federer said.
"I was thinking is this the best scenario? Because people need to get home and be safe and this was honestly when I knew we shouldn't play, it was too much stress and pressure for everybody.
"I had a bit of a breakdown. It was not going to be the dream match it was supposed to have been and I could feel it all falling apart at the end. When I came back (to the locker room) I was emotionally wasted."
Know More – 
https://www.essentiallysports.com/roger-federer-admits-breakdown-during-latin-america-tour/
ESPN has produced a candid documentary called 'Roger Federer: Everywhere is Home' that takes us through the 20 time grand slam champion's Latin American journey including the history making match in Mexico City with Alexander Zverev.
His tour took place in Chile, Argentina, Colombia, Ecuador and Mexico.
"It was an unbelievable and amazing trip, each step along the way as the fans expressed their love of the sport and appreciation of the experience," said the Swiss legend.
ADVERTISEMENT
Article continues below this ad
ESPN's Tom Rinaldi who hosts the half hour show, said the documentary offers rare insights into Federer's personality.
"Before this trip, I'd interviewed Federer dozens of times, but on this trip, in planes,  locker rooms and hotel suites, and through police motorcades, my understanding of him was almost completely recast."
This footage takes us into the psyche of Federer and how deeply committed he was to make this South American tour a success. Federer's initiative provided a sweet relief to the ravaged people in a region that has been rife with political and economic turmoil in the recent past.
ADVERTISEMENT
Article continues below this ad
We also get a glimpse into the special bond between Zverev and Federer. Zverev not only proves to be an able sparring partner for Federer, but also as the source of massive emotional support.
However, Roger Federer will look to put all these things behind him as he steps into what many call the final phase of his career. He will strive to add more grand slam trophies to his cabinet. However, the immediate focus will be on doing well in the Australian Open.