WATCH: All The Fun Moments From Laver Cup 2019
Published 09/25/2019, 1:07 PM EDT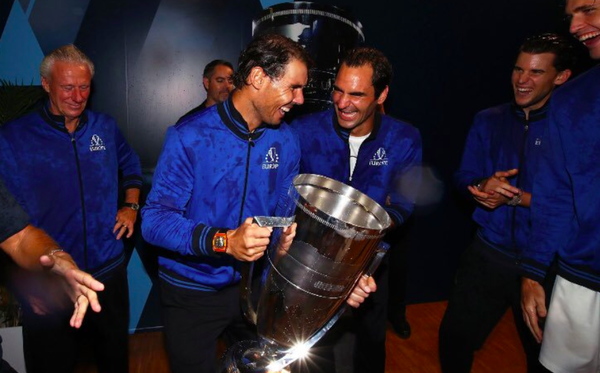 ---
---
An amusement tennis-weekend in Geneva, Switzerland exposed the elite professionals and tennis followers to an unusual side of the sport. Even before, Laver Cup 2019 got underway the tennis players began having a gala time and their scenes of joy were extended until the culmination of the tournament. Check out the best moments of Laver Cup 2019.
Palexpo ride: We have got enough space for Rafa behind the baseline!
Decked up ATP 
Federer to Nadal: "Pump your chest out man! Looking very sharp"
Full video ?
Fan moments
Roger Federer and Fabio Fognini photobombing the Spanish king ?
Bring it on, Geneva!
Behind the scenes
Rafa's Eyebrow ??
Nadal introducing his rival
Some rare scenes in tennis – When Federer and Nadal take the same of the court ?
When Dominic Thiem earned the first point for Team Europe
This was termed as "terrible coaching" by Federer
Fognini dropping a set and they sync
First singles win of the season for Jack Sock!
He defeated World Number 11, Fognini.
Off the court
Oh, Rafa!
Dinner on-court
Fed Fall
Laver enjoying his cup
Coach Nadal: Federer vs Kyrgios
Kyrgios while playing Federer: "hot chick in the house!"
Federer defeating Kyrgios
Nike Buddies!
Almost hanging Rafa…
Their faces…
Raonic was hard for Rafa…
Net cord point
One of the top moments – Lost in hand gestures
Ultimate Bromance: following him to the washroom
Coach Nadal Returns:
Tsitsipas playing doubles with both Nadal and Federer in less than 24 hours.
Sascha, the last hope for Team Europe
When Raonic held the second set break!
RF: Before the tiebreaker
Third Laver Cup!
European Flag!
Once again champions!
Fans Moments
Champagne Shower
Into Rafa's Museum!
Roger ??
Scenes