WATCH: Carlos Vela Scores an Outrages Goal in MLS
Published 08/22/2019, 8:02 AM EDT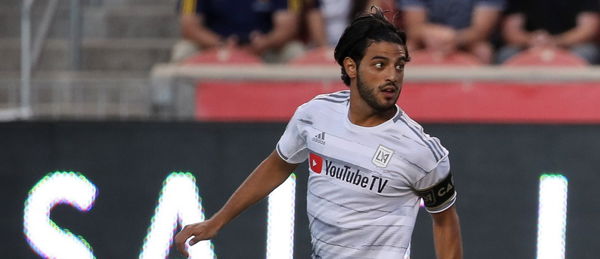 ---
---
Carlos Vela was the main man on the pitch as Los Angeles FC thumped the San Jose Earthquakes 4-0 on Thursday night.
ADVERTISEMENT
Article continues below this ad
The former Arsenal man scored twice in the first half to give his side a three-goal lead at halftime, after Diego Rossi opened the scoring. Vela scored the first goal from the penalty spot, but the second goal was excellent enough to be contender for the goal of the season in the MLS.
He entered into the final third with a beautiful one-two. Dribbling at full speed, Vela skipped past a tackle at the edge of the box, and beat a defender inside the box with only the goalkeeper to beat. If you are thinking, he then just placed the ball away from the goalkeeper into the goal, then no. He did much more. He dummies the goalkeeper, sees an Earthquakes defender trying to make an impossible on the line block, waits for him to commit, before slotting it into the empty net.
ADVERTISEMENT
Article continues below this ad
Los Angeles coach Bob Bradley was overwhelmed by the outrageous goal, and was full of praise for Vela.
"One really special goal," Bradley told the Los Angeles Times. "We all want to see moments like that. You come to the game tonight and you see that goal, that's something that stays with you. Carlos is capable of doing that kind of stuff."
The goal also took Vela close to breaking a very big MLS record.
From 1996 until 2018, no player scored more goals in a single MLS season than the 27 Roy Lassiter posted. Two other players, Chris Wondolowski in 2012 and Bradley Wright-Phillips in 2014, tied his record mark, but the record held for 22 years.
Last year, Josef Martinez surpassed the tally with 31 goals, that looked like would be the record for at least a few more years. But Vela, at 26 goals now, has eight more games to go, can break the record within an year.
Last week, Vela was talking about the record which he said is a great motivation.
ADVERTISEMENT
Article continues below this ad
"I think you always have the hope or motivation to get things like the record. You get it because you work every day to be able to have rewards like this," Vela told reporters last week. "Obviously, it doesn't always happen and it's not easy to do it, but it's what has kept me at a good level.
"I want to be the best in this league, try to show it every weekend and there are still nine games, so I have to close well to enjoy and be able to say it was a great year."
Los Angeles is on a five-game winning run and have already clinched a playoff berth. Their manager, talking about that, said that it was no time to rest and they wanted to win every game.
ADVERTISEMENT
Article continues below this ad
"There's no such thing as taking your foot off the gas," he explained. "You want to win every game. You want to be a better team. You want to play great football for 90 minutes. Nobody says, 'Oh, we made the playoffs. Now we can just rest.'"
Up next, the Western Conference leaders take on the Los Angeles Galaxy in a Los Angeles derby on Sunday night.