WATCH: Chris Morris Attempts a Fake Mankad on Marcus Stoinis in BBL 2019/20
Published 01/02/2020, 6:12 AM EST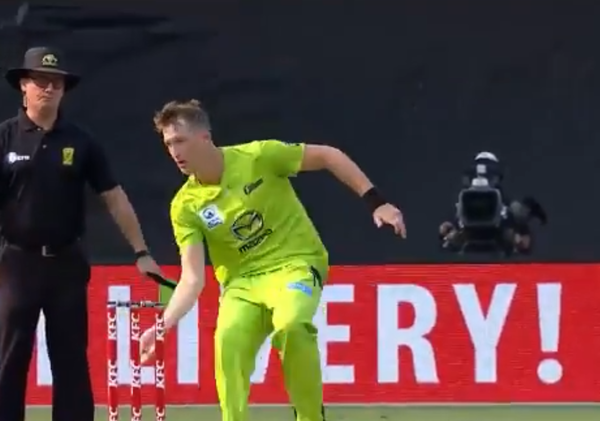 South African fast bowler Chris Morris attempted a run the non-striker out without actually having the ball in hand. During the Sydney Thunder vs Melbourne Stars match in the Big Bash League (BBL) 2019/20, Morris, comically, attempted a fake "Mankad" on Melbourne's Marcus Stoinins who was at the non-striker's end.
ADVERTISEMENT
Article continues below this ad
A video of the incident was obtained from BBL's twitter account.
ADVERTISEMENT
Article continues below this ad
It happened in the third over of the Melbourne Stars innings when Nick Larkin was on strike. Morris was running in to bowl the fourth ball, when the ball slipped from his hand just before he was entering his bowling stride. Morris then continued towards the stumps and faked a run out at the non-striker's end.
Both Stoinis and Larkin went on to make half-centuries, leading their team to a three-wicket victory. After a partnership of 123 runs between the two, Morris was the one to dismiss Larkin for 65, and later Stoinis for 58 in the same over. This seemed a late twist in the match that seemed to be going only in one direction.
The Stars lost three more wickets in quick succession, but eventually managed to scramble to 143 and win the match in the last over.
Chris Morris- finishing the year on a high
ADVERTISEMENT
Article continues below this ad
Morris, 32, had an up and down year in cricket. He was initially not selected in the South African squad for the World Cup. He was included just before the World Cup, and came out as his country's highest wicket-taker. He earned $2 million IPL contract with Royal Challengers Bangalore and is now racking up good performances in the Big Bash League.
"It's been a bit of a roller coaster year and to be honest, I was in a bit of a dark space before the World Cup because it was quite upsetting to think that my international career was over because I thought I had more to give you and you want to go out on your own terms," he was recently quoted as saying by the Daily Telegraph.
ADVERTISEMENT
Article continues below this ad
"Sometimes it takes a knock like that to make you appreciate what you have so ever since then I've gone out to enjoy myself and I think that shows in my cricket now.
"The BBL is a part of that. It's always been on my bucket list but I've never had the chance to play for before so I'm loving every minute of it, although the stress levels have been pretty high so far."