WATCH: Cyberpunk 2077 Event Reveals New Gameplay and Trailer
Published 06/25/2020, 5:55 PM EDT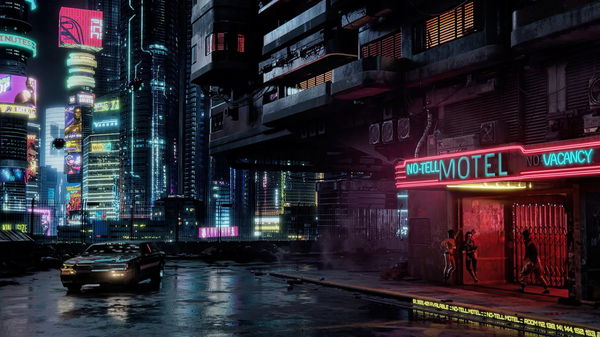 Cyberpunk 2077 just came out with their Livestream presentation, where we got to know about the inner workings of Night City Wire. Despite all the assumptions, CD Projekt Red gave us something quite unexpected. It's safe to say that our anticipation is now twofold.
ADVERTISEMENT
Article continues below this ad
The first viewing of the city tells us a lot about who will be the key players. As far as the visuals are concerned, we learned that the city is a blend of elements. Many of which have deep roots in both anime and American graphic novels. The city does not disappoint with its dark and gritty dystopian vibe. 
However, the most interesting feature which arrested our attention was the "braindance" feature. Perhaps never before seen in any game, this feature holds the quintessence of Cyberpunk 2077. Described as "a recording of someone else's experience", this feature helps one get all the clues.
ADVERTISEMENT
Article continues below this ad
Cyberpunk 2077 trailer reveal of Night City
Here V planned on stealing a prototype "eternal-life" chip from the Arasaka Corporation. However, plans have a way of going awry as we have been reminded.
Read more
Fortnite: Watch a 100 Stream Snipers Challenge SypherPK
ADVERTISEMENT
Article continues below this ad
Braindance – the best we have seen so far
A process where essentially the memories of one person are recorded to be experienced later. The angle from which this works in Cyberpunk is quite covert in nature. If you think from the perspective of a mystery solver, then Braindance is your Sherlock Holmes. 
Apparently, it was initially used for therapy and prisoner-rehabilitation. However, in the context of the game, it will be used for several nefarious reasons. Pawel Sasko, the lead quest designer, said in an interview that they figured out a way to use the Braindance in the game as a mechanic. "What we settled for is the braindance editor mode."
ADVERTISEMENT
Article continues below this ad
You can see different clues that have been registered on the peripheral of the given actor. While that sounds enlightening, it also essentially gives us everything we ever needed to know. 
Imagine a situation where we can see what went wrong and then find clues, to piece together for the next time. "We use braindance as a story-telling tool," the developers were quite clear on their perspective.