WATCH: Elvis Andrus and Rougned Odor Argue in the Match Against New York Yankees
Published 09/03/2019, 6:28 AM EDT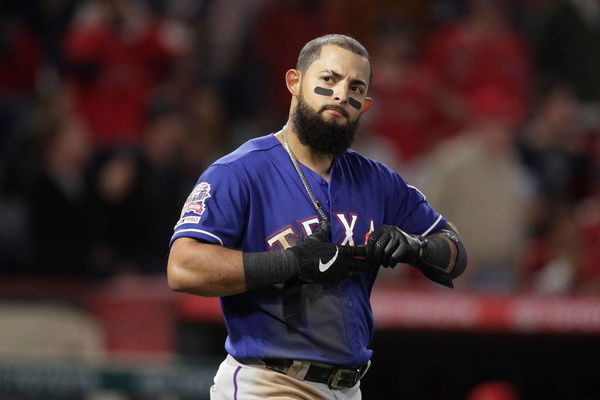 ---
---
In the match between New York Yankees and Texas Rangers, two Rangers player Elvis Andrus and Rougned Odor were involved in an argument of sorts.
ADVERTISEMENT
Article continues below this ad
During the end of fifth inning, both Andrus and Odor went for a catch and almost went into each other. Odor eventually caught the ball, did not seem to like the intervention form his teammate. The feeling with Andrus also looked the same.
Immediately after the catch was taken there was an animated discussion between the two. The duo looked like they were arguing about their territories on the field. Odor even marked a line with his foot on the ground as if to suggest that it was his territory.
ADVERTISEMENT
Article continues below this ad
Video clip of the argument between Elvis Andrus and Rougned Odor:
The start of Monday's game was delayed almost three hours due to rain as the Rangers won for the fourth time in six games and prevented the Yankees' from registering a third consecutive victory. The rangers claimed an incredible 0-7 victory. The New York Yankees were held to a blank for the first time in 221 games. Mike Minor, along with two relievers managed the achievement. The Yankees's streak was in trouble on Sunday against Oakland  when they trailed 4-0, but managed to turn it around to win the game 5-4.
Lefty Mike Minor earned good credit for the Yankees's blank.
ADVERTISEMENT
Article continues below this ad
"He almost made it look easy," Rangers manager Chris Woodward said. "It felt like he could execute pretty much any pitch in any location. With his stuff, he's got elite stuff at times, when you get that plus the command, it's tough."
Minor was rumoured to be a high priority trade target for the Yankees in July, which according to Minor was a little difficult to get through.
"It was a little bit difficult to get through that and pitch, it feels good to be here," Minor said on rumours of his move to New York. It felt good to be wanted, too, but at the end of the day nothing happened and I'm still here."
ADVERTISEMENT
Article continues below this ad
Yankees manager Aaron Boone was surprised at his team's performance  but credited Minor for his performance.
"Anytime we don't score or have a good offensive showing, it's always a little bit surprising just because our guys are so good, but it happens," manager Aaron Boone said. "When a good pitcher's on top of his game, he can make it tough on you, credit to him."