Watch: Lewis Hamilton and Nico Rosberg Celebrating Each Others Podium in 2008
Published 01/18/2020, 3:31 AM EST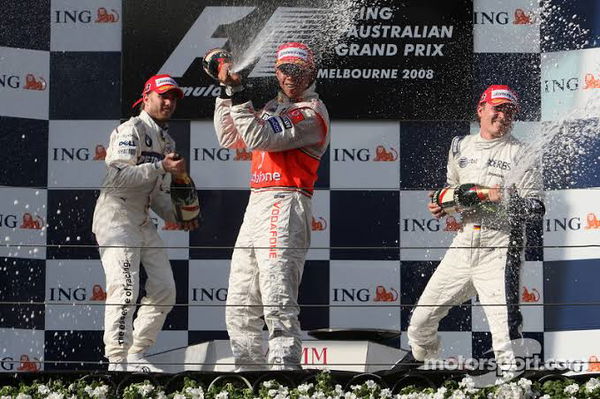 ---
---
/What a difference a few years has on a friendship in Formula One. It may not seem like it now, but once upon a time, Lewis Hamilton and Nico Rosberg were good friends. At the 2008 Australian Grand Prix, Hamilton took the win, ahead of Nick Heidfeld and Rosberg, in his maiden podium appearance.
ADVERTISEMENT
Article continues below this ad
In the cooldown room, the first thing that Hamilton did was wrap the younger German driver in a fierce bear hug. Both drivers knew each other from their karting days and were teammates for a fairly long time. The two drivers practically grew up racing together and were highly competitive with each other. According to former karting boss, Dino Chiesa, Hamilton was the faster driver whereas Rosberg was always more analytical.
ADVERTISEMENT
Article continues below this ad
ADVERTISEMENT
Article continues below this ad
Where did it all go wrong between Lewis Hamilton and Nico Rosberg?
Some say that the seeds of discord were sown once Hamilton left McLaren to join Rosberg at Mercedes in 2013. One could say that the heat of the championship battles got to both of them and it drove a deep wedge into their relationship and it continues to this day. At the 2016 Spanish Grand Prix, things took a turn for the worse when they took each other out.
ADVERTISEMENT
Article continues below this ad
The Mercedes duo had locked out the front row and everything was set up for a duel to finish 1-2. Little did anyone know that only half that prediction would come true. There was a duel alright, but it ended only as far as the exit of turn 3. Rosberg forced Lewis Hamilton onto the grass and the latter lost control.
Unfortunately for Rosberg, Hamilton's car careened into his own and both of them knocked each other out. 3rd-placed driver, Max Verstappen in his first race for Red Bull was not about to turn down an open invitation and he romped to victory. It was the only time that season, when neither Mercedes finished on the podium.