WATCH: Fabio Fognini and Countrymen Salvatore Caruso in an Ugly Argument After Australian Open 2021 Thriller
Published 02/11/2021, 5:50 AM EST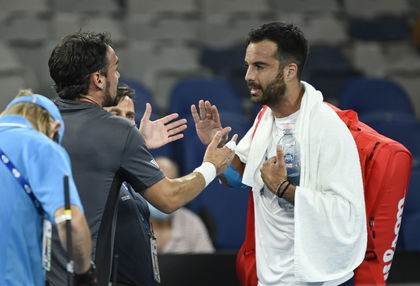 ---
---
In an all Italian 2nd round Australian Open 2021 clash, Fabio Fognini came back from 1-5 down in the final set match-tiebreak to beat countrymen Salvatore Caruso 4-6. 6-2, 2-6, 6-3, 7-6(14-12).
ADVERTISEMENT
Article continues below this ad
The hot-headed Fognini had many complaints during the match about the close line calls. During the final set tiebreaker, a fiery Fognini constantly kept on talking to himself loudly whenever he lost a point. Ultimately Fabio prevailed in the thrilling five-setter but the fireworks between the players even continued after more than four hours of long battle on the court.
The two Italians ended up in a big argument after the match at the net. They didn't stop there as even after Caruso went over to his seat, Fognini extended the argument. The argument went on for several minutes which forced the supervisor to step in and separate the two.
ADVERTISEMENT
Article continues below this ad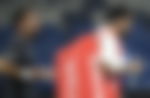 Apparently, Caruso was unhappy with Fognini's comments during the match. Fognini told him several times during the match "F**king lucky shot". After the match, Fabio justified his comments while referring to some balls and said: "You were lucky! Apologize to me.
An upset Caruso replied: "What are you saying? I never said a word during all the match. I just didn't expect it from you."
The two continued to berate each other until the supervisor intervened.
ADVERTISEMENT
Article continues below this ad
ADVERTISEMENT
Article continues below this ad
Fabio Fognini will next face Alex De Minaur in the 3rd round of Australian Open 2021. Earlier today, De Minaur defeated Pablo Cuevas in straight sets 6-3, 6-3, 7-5. This is the first time the two will face off each other in their career. Fognini has never reached beyond the fourth round of the Australian Open. However, he will certainly look forward to improving his result this year.