Watch: How Conor McGregor Suffered His First Loss in MMA
Published 01/06/2020, 9:30 AM EST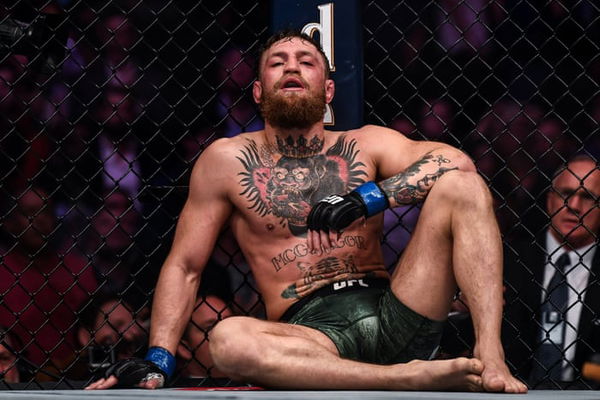 Conor McGregor is the biggest name in UFC. He is the first fighter in the history of UFC to hold championship belts in two divisions simultaneously. McGregor's success as a mixed martial artist involves a win in three weight classes. Additionally, he has a rock-solid left hand that can knock out any UFC fighter. However, like every human being, the dual time champion McGregor has his weaknesses.
Nate Diaz shocked the world when he caught McGregor in a rear-naked choke for the victory. It was McGregor's first loss in UFC, and it sent the entire MMA community in disbelief. McGregor will go on to suffer another submission loss at the hands of Khabib, for the UFC lightweight championship. However, these weren't the only times that Conor was at the losing end after the bell rang.
Read: Michael Bisping Gives Alarming verdict on Conor vs Cowboy
ADVERTISEMENT
Article continues below this ad
Conor McGregor taps out for the first time
A young Conor McGregor took on Artemij Sitenkov in his third professional fight. After two back to back victories to his name, McGregor got his calculations wrong for the first time inside the octagon. Conor immediately secured a takedown and looked comfortable for the ground and pound. However, Artemij locked his legs for a kneebar. Conor tapped out with the clock just over a minute in the first round. The fight marked the first loss of his UFC career. Watch Full Fight Here.
ADVERTISEMENT
Article continues below this ad
It's interesting to note that all of McGregor's losses have come via submission. He has only lost four times in his 21 professional fights.
Read: Jorge Masvidal responds to Conor McGregor
Can Conor Overcome Donald Cerrone at UFC 246?
ADVERTISEMENT
Article continues below this ad
Conor McGregor will finally make his much-anticipated return inside the UFC octagon. He will fight for the first time in more than a year after his championship match loss to Khabib Nurmagomedov at UFC 229. He will face UFC veteran Cowboy Cerrone. The fight will take place at the welterweight division, and will mark Conor's return back to a weight class where he has shallow experience.
It is a spectacular match-up that is bound to create a lot of excitement. Donald Cerrone has a lethal submission game and can prove to be troublesome for the Irishman. If the fight happens on the feet, Conor will have an advantage going forward. However, Cerrone's kickboxing shouldn't be taken lightly either.