WATCH: Ishan Kishan Comments Hilariously on Mayank Markande from Behind the Stumps
Published 09/07/2019, 3:30 AM EDT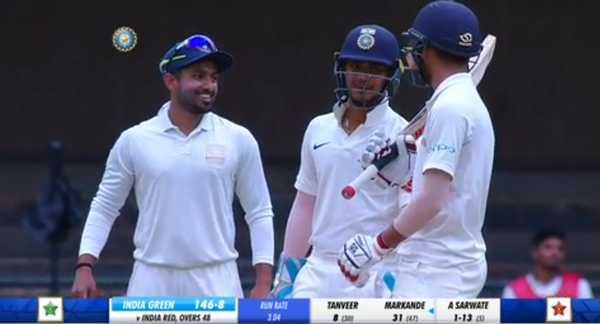 ---
---
Wicket keepers and chattering are never far away. While in the olden days, the chatter remained on the field, most banters from behind the stumps are now audible, thanks to the stump mics. In the most recent of happenings, Ishan Kishan was heard trying to entice Mayank Markande from behind the stumps.
ADVERTISEMENT
Article continues below this ad
During the Duleep trophy finals between India Red and India Green, Punjab's Mayank Marakande was batting after a top order collapse. Left-arm spinner Aditya Sarwate was bowling to Markande. This was when Kishan from behind the decided to take a dig at the leg spinner who was trying to bail his team out of trouble with the bat. While trying to set the field, Kishan started to shout for Markande to hear. Saying Markande did not have enough strength to hit the long ball, he told the fielders to move in. It all seemed friendly, and Markande himself could not control his laughter. He was all smiles at his friend's comments.
The video of the funny incident came out when BCCI tweeted with a caption- "Stump mic gem."
ADVERTISEMENT
Article continues below this ad
Markande however, managed to hold himself together and was not enticed by the wicket keeper's comments. He negotiated the over safely, and went on to 76, taking India Green to a respectable total.
ADVERTISEMENT
Article continues below this ad
Stump mic gem: Markande escapes Ishan Kishan's trap

What happens when two friends are in opposite teams? Ishan Kishan throws the bait but Mayank Markande keeps his calm. A must watch.

Full video here 📹📹https://t.co/7aMTgn14cq #DuleepTrophy

— BCCI Domestic (@BCCIdomestic) September 5, 2019
This came after India Green won the toss and elected to bat first but none of their batmen were able to make runs.
ADVERTISEMENT
Article continues below this ad
On the contrary, India Red went on to score 388 runs on the back of opener Abhimanyu Easwaran's incredible 153.
Both Ishan Kishan and Mayank Markande play for Mumbai Indians in the IPL and the banter might have been from their friendship. Markande has bowled well in the IPL and now showcased his ability with the bat. Just 21 years in age, he will be hopeful of getting a chance in national colours at some point. So will be Kishan. Especially after when MS Dhoni retires, Kishan might be second behind Rishab Pant in the pecking order.