WATCH: Jimmie Johnson's Daughter Runs to Meet Her Favorite Driver Chase Elliott at Daytona
Published 12/23/2020, 12:36 PM EST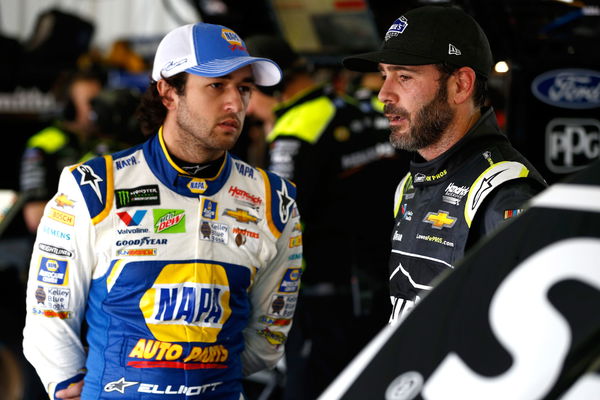 ---
---
At the 2020 Daytona 500, there was an adorable moment involving Jimmie Johnson, his youngest child, and Chase Elliott. Ahead of the race start, Johnson was carrying young Lydia when she indicated that she wanted to be set on the ground.
ADVERTISEMENT
Article continues below this ad
Once he complied, she took off like a bullet and promptly made a beeline to Elliott, her favorite driver. In all honesty, it was such a sweet scene as Elliott went and interacted with the child, while Jimmie looked on.
It is also worth noting that she and her older sister hugged 'Uncle Chase' at Phoenix when he won the title. In other words, Johnson and Elliott get along so well that the reigning champion is well-liked by Johnson's daughter.
ADVERTISEMENT
Article continues below this ad
How is the relationship between Jimmie Johnson and Chase Elliott?
It is safe to say that Jimmie Johnson and Chase Elliott get along swimmingly. In fact, Johnson was the first one to congratulate Elliott for his maiden Cup Series title. When he shook hands with the #9 driver, many viewed it as a passing of the torch.
This is because Johnson was the last Hendrick Motorsports champion. He also won a record-equalling 7 Cup Series titles, tying him with Dale Earnhardt and Richard Petty. Now, with Johnson walking away from NASCAR, Chase Elliott has risen as his new successor.
ADVERTISEMENT
Article continues below this ad
Additionally, Elliott's title triumph was also quite poetic, since this was Johnson's last season in NASCAR. In other words, Jimmie Johnson can leave the sport knowing that Hendrick Motorsports is in good hands.
Furthermore, Elliott will join by Kyle Larson, Alex Bowman, and William Byron. These 3 drivers are also equally talented and are touted as future stars. Of course, they have to try to wrest the title from Chase Elliott's hands.
With the Hendrick stable boasting of many talented drivers in one team, they could be a formidable side. Obviously, the likes of Penske, Joe Gibbs, and Stewart-Haas have to ensure that they are in top form to depose Hendrick Motorsports.
ADVERTISEMENT
Article continues below this ad