WATCH: Klay Thompson Cracks Hilarious Stephen Curry Joke on Manny Pacauiao
Published 08/03/2021, 3:09 PM EDT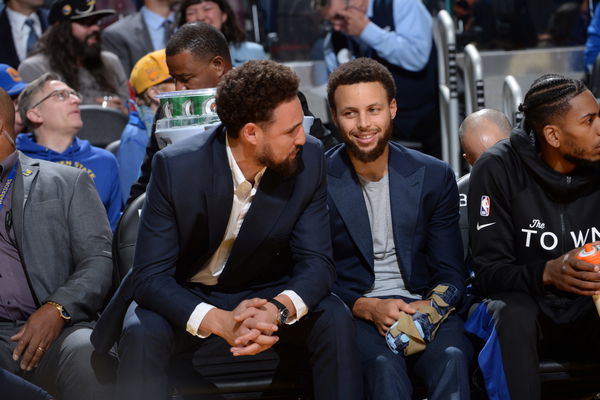 ---
---
Warriors fans will be patiently waiting, rearing to come out as one of the most vociferous fan bases once again. With splash twin Klay Thompson finally penciled in for game time this season following 2 rough years with injury, Golden State is ready to get back to its winning ways.
ADVERTISEMENT
Article continues below this ad
Thompson recently met with boxing legend Manny Pacquiao, in what might have been a workout session in San Francisco. As Klay Thompson rehabilitates from a recent Achilles injury that kept him out last season, another meetup with Pacquiao gave the NBA fraternity yet another moment of humor that has taken over Instagram since.
ADVERTISEMENT
Article continues below this ad
Klay Thompson is probably a "fun guy"
Klay Thompson had jokes in his workout session with the Filipino boxing legend, a session one would have to assume was a promotion of their latest Anta kicks in the market. Klay's wittiness was once again at the forefront, as he told Manny Pacquiao – "put those on, shoot better than Steph."
While Thompson engaged in light banter at Curry's expense, given the bond the splash brothers share, a Stephen Curry retort is in order.
This would probably be another instance in a reportedly long history between the 2 heavyweights in their respective sports. Both having signed with Anta, share a deeper connection that transcends the line of their respective sports.

ADVERTISEMENT
Article continues below this ad
Manny Pacquiao is a known NBA fan, while being not too shabby of a shooter himself. Other than boxing, Pac-Man can hoop!
Following an MVP-like season for Stephen Curry, Klay Thompson's return launches the Golden State Warriors as a formidable contender in the west. Encouraging signs lie ahead, as Thompson's on-track recovery now extends to a rather extensive on-court shooting regime.
ADVERTISEMENT
Article continues below this ad
And while it's unlikely that Klay Thompson plays on opening night, the opposition's time of reckoning is fast and approaching.
Watch this story – Top 5 Fan Favorite Boxers of All Time