WATCH: Luis Suarez Appeals for a Handball Against the Goalkeeper
Published 06/25/2019, 4:56 AM EDT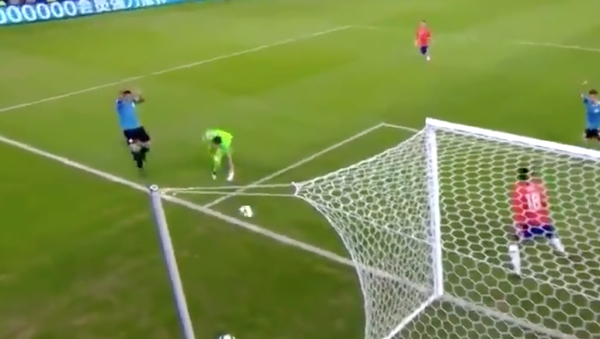 ---
---
During the Copa America 2019, Uruguay were facing Chile in the final day of the group stage matches. Uruguay won that match, courtesy a goal from Paris Saint-Germain's Edinson Cavani. However, it was Barcelona's Luis Suarez who stole the show with his hilarious and bizarre antics.
ADVERTISEMENT
Article continues below this ad
During the match, the 32-year old was vying for the ball when he appealed for a handball. While it was standard practice to appeal for a handball, if the situation called for it, it was actually the person he was appealing against, that was hilarious.
ADVERTISEMENT
Article continues below this ad
As it turned out, the opposition goalkeeper, Gabriel Arias who managed to get a hand to the ball. When that happened, almost as if on instinct, Luis Suarez appealed for a handball. Then, he sheepishly put his hand back down upon realising his gaffe.
The incident occurred during the 22nd minute, when Suarez tried to cut the ball back to compatriot Edinson Cavani. However, Arias was fully alert and intercepted the pass with his hand.
Unfortunately for Arias he was unsuccessful in letting the ball stay within play and the corner was awarded. Luis Suarez slapped his hand, a gesture that normally means appealing for a handball. Then, he was struck with a brainwave that goalkeepers are allowed to use their hands in their box.
It is not the first time that Luis Suarez had a brain fade during a match. In fact, Last season, he appealed vociferously for a handball when Barcelona and Real Betis faced each other. However, he failed to notice that the appeals were against Barcelona, to be precise, against his teammate Nelson Semedo.
ADVERTISEMENT
Article continues below this ad
Uruguay have now progressed to the quarterfinals, along with Argentina, Brazil, Paraguay, Venezuela, Chile, Colombia and Peru. The Uruguayan team will now face Peru in the quarterfinals and could face either Colombia or Chile in the semifinals. Meanwhile, Neymar's Brazil and Lionel Messi's Argentina could potentially meet in the semifinals as well.
ADVERTISEMENT
Article continues below this ad