WATCH: Millions of Toronto Raptors Fans Take to the Streets in Celebration
Published 06/18/2019, 3:04 AM EDT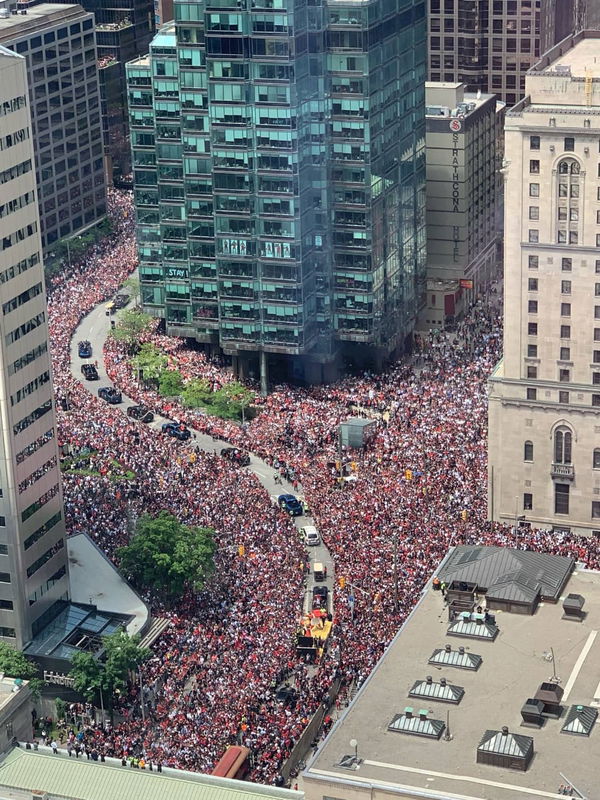 There was absolute jubilation as the Toronto Raptors clinched the NBA Championship. To celebrate the occasion, millions of Toronto residents filled the streets in a massive victory parade. During the parade, a part of Bremner boulevard was renamed, Raptors Way, in the team's honour.
ADVERTISEMENT
Article continues below this ad
ADVERTISEMENT
Article continues below this ad
The team was also announced and honoured by Mayor John Tory, Prime Minister Justin Trudeau and Ontario Premier Doug Ford. The Toronto Raptors players also received a key to the city, with Kawhi Leonard receiving the official key. The players also took the chance to interact with the fans and spend time with them.
However, the celebrations were momentarily disrupted, owing to reports of gunfire in the city. Reports stated that there were two victims, but fortunately, the injuries were non life-threatening. After pacifying the panicked crowd, the celebrations continued to wear on.
According to Brad Ross, a City of Toronto spokesperson, an estimated 2 million people turned up to the celebration. Ross said, "We are in the process of closing Yonge-Dundas Square so people can watch the festivities,"
"As the parade passes people are following it. Please don't do that. There is no more room in Nathan Phillips Square,"
The parade was so large, that when they reached Nathan Phillips square, a number of media outlets were forced to move away from the area.
https://www.youtube.com/watch?v=gpifQm5LezE
During the parade, a vast majority of Toronto Raptors fans beseeched Kawhi Leonard to remain with them. Their begging was in response to reports that Leonard will become a free agent at the end of the month.
ADVERTISEMENT
Article continues below this ad
Mayor John Tory said, "As we gather to celebrate the first NBA championship in Raptors' history, I encourage everyone in our city to show our support, pride, love and appreciation for this incredible team,"
"This is Canada's team so whether it be red, whether it be black and gold, whether it be the old-school purple, wear it proud and be part of our 24-year run to become world champions,"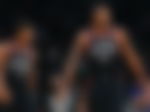 The Raptors themselves, has a blast at the parade, and star player Kawhi Leonard was at the forefront. While on stage, he entertained fans by poking fun at his own laugh.
ADVERTISEMENT
Article continues below this ad