WATCH: Moto2 Rider Alex Marquez Pulls Off an Incredible Save in Soggy Japan
Published 10/19/2019, 9:19 AM EDT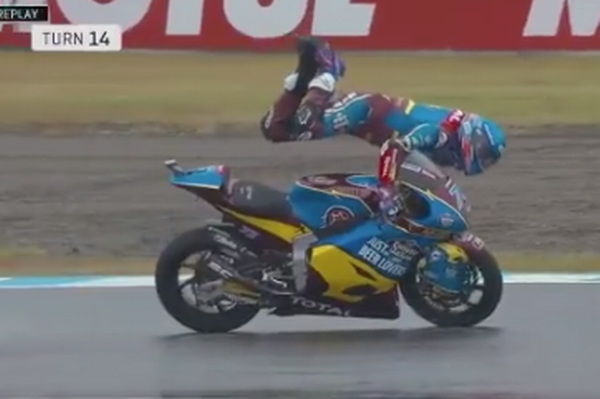 During the FP3 session of the Japanese Moto2 Grand Prix, Alex Marquez pulled off an incredible save. The nation was still dealing with the remnants of the typhoon that ravaged the island for a few weeks. So, in other words, the Twin Ring Motegi circuit was damp and treacherous.
ADVERTISEMENT
Article continues below this ad
Spanish rider and championship leader, Alex Marquez found that out first hand earlier today. The 23-year old was in for the ride of his life when the back end of his bike fish-tailed and he was thrown off his seat. Luckily, his hands had a death grip on the handlebars and Marc Marquez' brother ended up hanging off the side of the bike.
ADVERTISEMENT
Article continues below this ad
Fortunately, he managed to regain control of the bike and continue racing unhindered. The Moto2 rider later spoke about the buttock-clenching incident.
"I had a big moment," Alex Marquez said. "On the bike it wasn't so fun! Then when I was on the side of the bike I said, 'OK, I've saved it!' I then passed in front of the box and saw Guille [Carrillo – mechanic] and all of the team laughing a lot and was happy to save it and lucky to escape injury."
"It was a really good save. It looked good on TV, especially in slow motion, from the front and the side. I'm really happy for that!"
ADVERTISEMENT
Article continues below this ad
When qualifying came, Alex Marquez put in a decent performance to start Sunday's race in fourth. In terms of the championship, he is 40 points clear of nearest challenger Augusto Fernandez.
"I'm so happy because it was such a difficult day," he said. "In qualifying especially because the conditions were really tricky. We suffered a little bit but we did quite well. The objective was to be on the first three rows.
"We will start from the second one so the objective was done. For tomorrow will be a new day. We'll take all the information from Friday, try to make a step and feel better.
ADVERTISEMENT
Article continues below this ad
"Tomorrow we need to be intelligent, make our own race and get a good result. The podium is the target and we'll try to achieve that."