WATCH: Nathan Chen Conquers Figure Skating Group with FLAWLESS Record-Breaking Performance at Beijing Winter Olympics 2022
Published 02/08/2022, 12:40 AM EST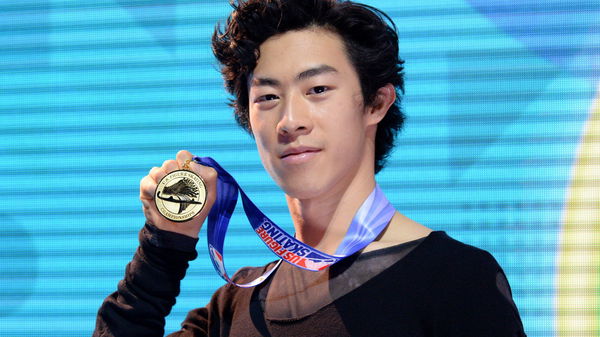 The Men's Short Program event at the Beijing Winter Olympics 2022 was held on February 8th. The most awaited figure skaters were Hanyu Yuzuru and Nathan Chen. Notably, Chen, being the 6-time National Champion, is the gold medal prospect for the US.
ADVERTISEMENT
Article continues below this ad
Meanwhile, his rivalry with Hanyu Yuzuru is well known in the figure skating world. Both of them are the top contenders and equally talented.
However, during the Men's Short Program event, it was Nathan Chen who outdid his rival and displayed a performance so flawless, that there was no beating him.
ADVERTISEMENT
Article continues below this ad
Nathan Chen does it!
Before Chen came to perform, Yuzuru was in 4th position with a score of 95.15. It was Shoma Uno, the 2018 silver medalist who was in first place with an impressive score of 105.90.
But then came Nathan Chen, displaying unreal skill. The American figure skater outdid himself and secured the first position. He scored a total of 113.7, which was the season's highest.
With that, Nathan set a new world record of the highest score in the Men's Short Program. Previously, this record was held by Hanyu, which was 111.82. Truly, it is incredible to see how 22-year-old Nathan has made history at this year's Winter Olympics.
He has once again proved why he is a 6-time national champion.
While Hanyu Yuzuru stumbled during the beginning, Chen was flawless. He made no mistakes and probably gave what is being called a career-best performance at the Short program.
In the final scoreboard, Chen secured first place. He was followed by Kagiyama Yuma of Japan with a score of 108.12. Uno Shoma came 3rd with 105.90.
Meanwhile, Hanyu Yuzuru was in 8th position with a final score of 95.15.
Chen and his brilliance
ADVERTISEMENT
Article continues below this ad
Going into the Olympics, Nathan was the favorite for gold. After his bronze medal finish at the 2018 Winter Games, one would expect much more from the gold medal prospect. However, even as he delivered as expected, it is not the first time he has made history.
Chen is the first skater to have landed five types of quadruple jumps in competition; toe loop, Salchow, loop, flip, and Lutz, as well as eight quadruple jumps across a single competition.
As we move forward, do you think Chen will keep up this form and claim the prize he's deemed the perfect fit for?
ADVERTISEMENT
Article continues below this ad