WATCH: Nick Kyrgios Loses Cool and Destroys His Racquet at Australian Open 2021
Published 02/10/2021, 5:24 AM EST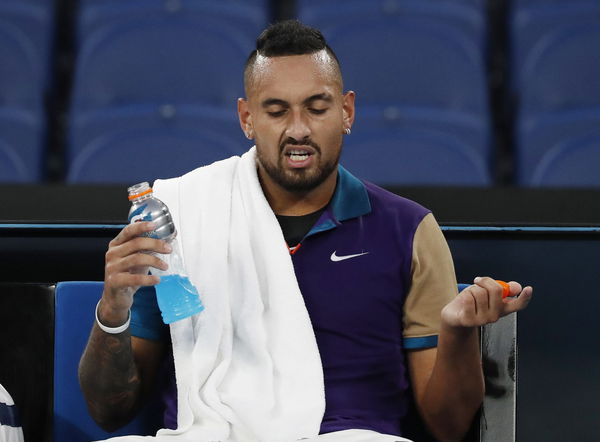 ---
---
Australian tennis star Nick Kyrgios is infamous for his temper. And after losing a set in his second-round match at the Australian Open 2021, Kyrgios destroyed his racquet with one strong smash.
ADVERTISEMENT
Article continues below this ad
The Aussie was playing 29th seed, Ugo Humbert. And after losing the first set 7-5, Kyrgios while going to his seat smashed his racquet on the court, thus destroying it.
Kyrgios tried playing 3 drop shots in the last game of the opening set, but then he was broken and Humbert won the set. He had an overhead smash to finish the game and take the first set to the tiebreaker. But he missed, and thus in frustration broke his racquet.
ADVERTISEMENT
Article continues below this ad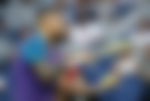 Nick Kyrgios sent a racquet flying
This isn't the first time Kyrgios has done this. Back while playing the pre-event to the Aussie Open, the Murray River Open, Kyrgios broke his racquet during a straight-set loss at the hands of Borna Coric.
During the second set, Kyrgios missed a point and destroyed his racquet fueled with rage. But this wasn't the end, as he then picked up the dismantled racquet and threw it out of the stadium.
The racquet flew past all the empty seats and landed outside the tennis court. Luckily for Kyrgios, there were no fans during the pre-events.
This is the 2nd time Kyrgios has broken his racquet at the Australian Open. In 2020, he smashed his racquet during his 4th-round loss against Rafael Nadal.
ADVERTISEMENT
Article continues below this ad
After losing the 3rd-set tiebreaker, Kyrgios slammed the racquet on the court so hard that it went and hit the on-court microphone. And as the Rod Laver Arena was jam-packed with fans, he then tried giving the destroyed racquet to one member of the audience.
On the court, Kyrgios is a highlight, but even off the court, he is one to watch. Kyrgios has continued his war of words with World No.1 Novak Djokovic.
The Australian has taken various jabs at Djokovic for his suggestions to the authorities for the Australian Open quarantine. And Djokovic has also not backed out and claimed that he holds no respect for Kyrgios off the court.
ADVERTISEMENT
Article continues below this ad