WATCH: Novak Djokovic Receives Birthday Wishes From 33 Countries
Published 05/23/2020, 4:56 AM EDT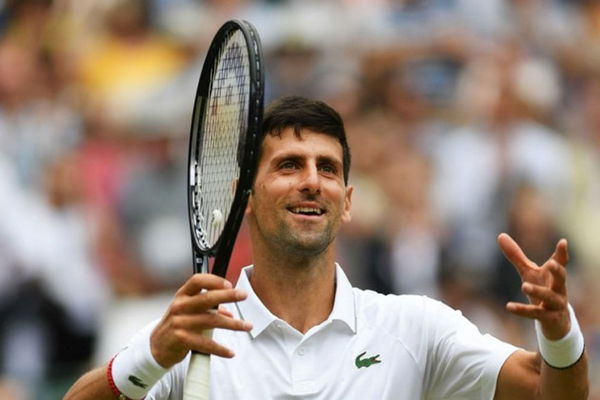 ---
---
Serbian star Novak Djokovic celebrated his 33rd birthday yesterday. While it may not have been the best birthday due to the coronavirus pandemic, he will definitely be really happy to see the video below. Check out this video of kids from all over the world wishing him on his birthday.
ADVERTISEMENT
Article continues below this ad
ADVERTISEMENT
Article continues below this ad
33 Kids Wish Novak Djokovic
As you can see in the above Instagram post, kids from 33 countries wished Novak Djokovic on his 33rd Birthday. They all wish him in different languages. And since Novak speaks 11 languages, he has been asked to spot as many languages as he can in the video.
The Serbian Star was very happy to see his video and thanked these kids on his Instagram story. He is right now probably spending time with his family and celebrating another year where many amazing things happened. And by that we mean – moving further in the race to become the GOAT of tennis.
ADVERTISEMENT
Article continues below this ad
Becoming the GOAT of tennis is one of Novak's biggest goals and has expressed his desire to do that many times. In the last year, he won many Grand Slams that have taken his Grand Slam tally to 17 which is 3 short of Roger Federer's record of 20.
The record for the most Grand Slams is what is going to decide who becomes the GOAT of tennis. This is why the Serb is probably training hard so that he can win some Grand Slams at the next opportunity. Unfortunately, that opportunity is only going to come after a while.
ADVERTISEMENT
Article continues below this ad
This is because the coronavirus pandemic has suspended the ATP Tour. It is scheduled to return in August assuming that the virus is contained by then. If the current situation persists then the Tour will not return by then.
Hopefully, that does not have to happen as many countries are developing a vaccine to fight the virus. And when the tour returns, we can see Novak get close to becoming the GOAT of tennis.