WATCH: Novak Djokovic Takes a Smooth Selfie With a Fan After Winning His 6th Wimbledon Championships Final
Published 07/11/2021, 1:06 PM EDT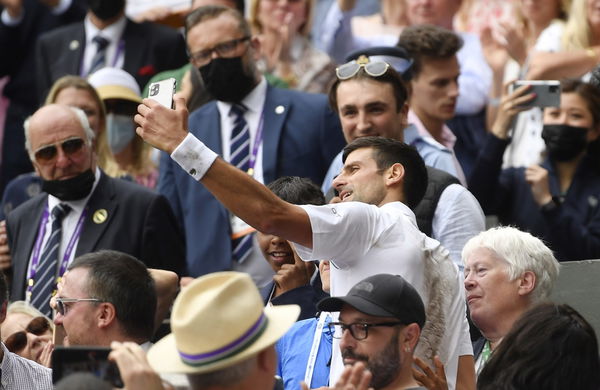 ---
---
As the curtain comes down on the Wimbledon Championships 2021, it had to end on a high note. In the finals, it was Novak Djokovic up against Matteo Berrettini. In the match, both players got off to a shaky start but as the match went on the tempo was raised. In the end, Djokovic won the match 6-7(4) 6-4 6-4 6-3.
ADVERTISEMENT
Article continues below this ad
After the match, the World No. 1 player was in tears. He created history by equalling Roger Federer and Rafael Nadal's record of holding 20 Grand Slam titles. He went to his box after winning the match. On the way down, he was passing by fans. He happened to pass by a young boy who was keen to take a selfie with him.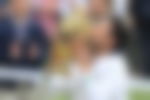 Being the humble person that he is, Djokovic asked for the phone of the boy and clicked the selfie for him instead. In doing so, the crowd applauded the generous act of the Serb.
ADVERTISEMENT
Article continues below this ad
Reflecting on the match, Novak Djokovic was leading all along. However, as the set approached its business end, Berrettini broke back and sent the set into a tiebreaker eventually. In the tiebreaker, it was the Italian player who played the crucial points with intensity. He won the first set 7-6(4) in 71 minutes.
Novak Djokovic took control after the first set
In the following set, the World No. 1 player raised the bar and was playing with more accuracy. It was a tug of war battle but soon after the match was leveled after the Serb clinched the set 6-4.
ADVERTISEMENT
Article continues below this ad
In the third set, Djokovic was riding on the momentum. He got the one break which was enough to see him win the set. During the set, the Serb played with finesse and consistency that helped him.
As the fourth set began, Matteo had to raise the bar in order to stay alive in the match. However, it was the five-time Wimbledon Champion that handled the pressure that helped him see the winning side. After 42 minutes
After winning today's match, Djokovic has leveled up with Roger Federer and Rafael Nadal on 20 Grand Slam titles each. He has won the three Grand Slam events of the calendar year. It'll be interesting to see how he performs at the US Open.
ADVERTISEMENT
Article continues below this ad
Watch this story: When Roger Federer Toyed With His Opponent So Bad He Asked Advice From Andre Agassi in the Crowd