WATCH: Pat Rafter Impersonates Roger Federer In His Undies
Published 03/23/2020, 1:38 PM EDT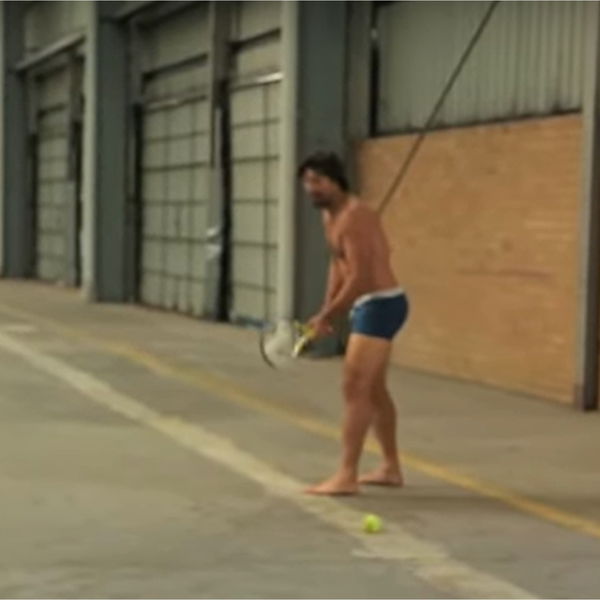 ---
---
Pat Rafter holds a very unique distinction – he is the only man to remain undefeated against Roger Federer after three meetings. Needless to say, Federer pops up in every conversation regarding Rafter.
ADVERTISEMENT
Article continues below this ad
However, there is one more hilarious incident involving Rafter and Federer that went a little under the radar.
Rafter once impersonated the Swiss maestro. However, we wish that was it. Rafter was sporting an undergarment while he did that. Let's find out the circumstances that led to this unique situation.
ADVERTISEMENT
Article continues below this ad
Watch – 20 God Mode Roger Federer Shots
Why did Pat Rafter impersonate Roger Federer? 
Pat Rafter was the face of the Australian underwear brand Bonds in 2010. In fact, the Australian was a pretty famous ambassador for the innerwear company.
https://www.youtube.com/watch?v=ttoXVwmuX1I&feature=youtu.be
Around the same time, a famous Roger Federer video had gone viral. The Swiss star was the brand ambassador of Gilette. He shot a video where he placed a can on the head of one of the crew members. Post that, Federer proceeded to knock the can down in expert fashion.
Obviously, it became famous leading to people lauding the amazing skills of Federer. A confident Pat Rafter believed that he could achieve the same. Dressed in nothing but his Bonds underwear, Rafter convinced a crew member for the stunt.
His convincing was very amusing indeed –
ADVERTISEMENT
Article continues below this ad
"I taught Roger everything he knows," Rafter reminds the volunteer. "So it should be okay."
Know More – "We Should Upgrade Your Wardrobe"- Mirka To Roger Federer After Viewing His Lack Of Fashion Sense
ADVERTISEMENT
Article continues below this ad
What followed was pure carnage but it was very funny. Rafter used his body's strength to hit the shot. However, the Australian completely missed his target as he went on to hit the crew member instead! A shocked Rafter went to comfort the poor guy afterwards.
Well, if there's one thing that this teaches you, it's that Roger Federer is a once in a lifetime athlete that you don't go ahead and impersonate. If you do, you'll find yourself amidst drastic situations like Pat Rafter.