WATCH: Paulo Gazzaniga Pulls off an Amazing Double Save to Stop Mohamed Salah & Roberto Firmino
Published 10/28/2019, 8:41 AM EDT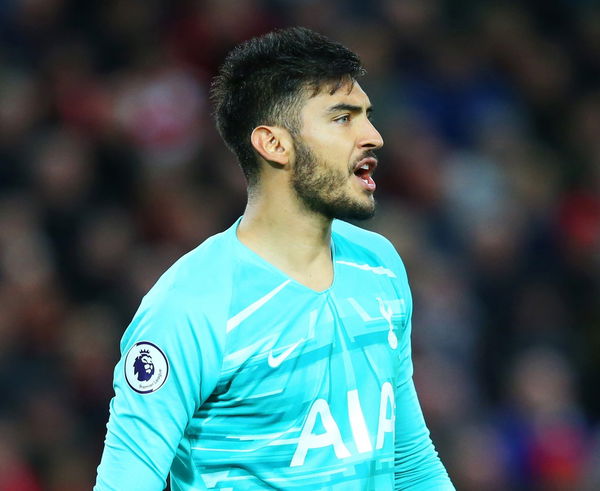 ---
---
Liverpool had a frustrating few moments in the match against Tottenham Hotspurs when Paulo Gazzaniga was pulling off some incredible saves to keep Spurs in it after Harry Kane had handed them early lead on Sunday.
ADVERTISEMENT
Article continues below this ad
Gazzanoga's best moment had come when he denied Mohamed Salah's left-footed shot from outside the box with a full stretch and immediately saved Roberto Firmino's effort from a rebound.
ADVERTISEMENT
Article continues below this ad
He was recorded making as many as 12 saves in the match. Talking about to Argentine goalkeeper after the match, Liverpool manager Jurgen Klopp told BBC Radio 5: "Maybe he is young enough to have one or two more, but that was a proper game.
"You can get frustrated in situations like this, being 1-0 down and the goalkeeper always being there, it can be tricky. But ok, and it was a situation of pure will to finish it off."
Liverpool found themselves trailing as early as within the second minute, when Harry Kane scored for Spurs, but Liverpool came back to win the match 2-1 with second half goals from Henderson and Salah. Klopp praised his side's response to going behind so early against a team that, while not winning, have caused problems at Anfield in recent seasons.
"I told the boys at halftime, the only problem in this game so far is the result — apart from that, it's good," Klopp said.
"We didn't chase it, we just played it. Very often in football the result is the result of the performance and today it worked out. The performance was really super — really, really good. I liked it a lot.
ADVERTISEMENT
Article continues below this ad
"In a difficult game, being 1-0 down against Tottenham with the strength they have in counter-attack is really tough, so the boys deserve a lot of credit for that today."
Salah was substituted late in the match with injury concerns and Vigil van Dijk had picked up a knock. But Klopp said that they were not very serios.
"Virgil had a dead leg and Mo, it's the ankle, the ankle he has struggled with since the Leicester game," he said. "It's good, but the longer the game goes the muscles get a bit tired, stuff like this. But no, nothing serious."
ADVERTISEMENT
Article continues below this ad
Match highlights: