WATCH: Pokimane Reacts to the Most Ridiculous Twitch Unban Requests
Published 03/14/2021, 2:32 PM EDT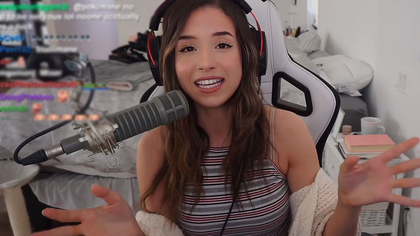 ---
---
Twitch is the biggest livestreaming platform in the world where creators provide great content for gaming, cooking, and many more activities. Along with the content, the stream chat also provides more entertainment with funny interactions and comments. But sometimes, the chat can also be a source of toxicity and these creators face a lot of hate that is unwarranted. Streamers like Pokimane, Valkyrae and many more face this kind of hatred almost all the time.
ADVERTISEMENT
Article continues below this ad
In such cases, the streamer mods ban these users from the channel. But they can send unban requests if they believe that they have been wrongfully banned. Pokimane looked at some of the funniest requests and became the judge at the Court of Bans to decide the fate of these users.
ADVERTISEMENT
Article continues below this ad
Pokimane looks at some weird unban requests
Pokimane has one of the best fanbases on Twitch, but even with the amount of love she receives, she constantly receives equal amounts of toxic messages on her chat. Her mods have banned a lot of users who send her crude messages, which are totally not acceptable. However, as part of one of her segments, she allows a few of these users to get unbanned from her channel if they give an acceptable reason and apology.
A few of the requests that she receives were funny excuses for the vulgar messages that she got. Most of those excuses included reasons like their fingers slipping or one of their acquaintances sending it to her without their knowledge. Others responded by saying that they were "kidding". Some users didn't even care and continued their indecency even on the unban requests.
The toxicity in Twitch
ADVERTISEMENT
Article continues below this ad
Twitch has faced a lot of flak for not being able to control the amount of hatred their creators have to face. Although they have tried to implement rules and regulations to stop them, many of them have seeped through the cracks and still make it onto the stream chat. YouTubers also face a similar issue with their comments section.
For reasons like these, these creators have to use necessary measures like employing mods who keep these chats in check. As the creators receive more fame, the amount of toxicity also grows simultaneously. So, it is imperative that these streamers use mods or these users will flood them with a lot of negativity.
Hopefully, Twitch and YouTube can improve their platforms with better measures for toxic behaviors and improve the experience for the creators and their viewers.
ADVERTISEMENT
Article continues below this ad