Watch: Rare Footage of Khabib Nurmagomedov Reacts on McGregor's Historic 13 Second Knock Out
Published 01/11/2020, 5:44 PM EST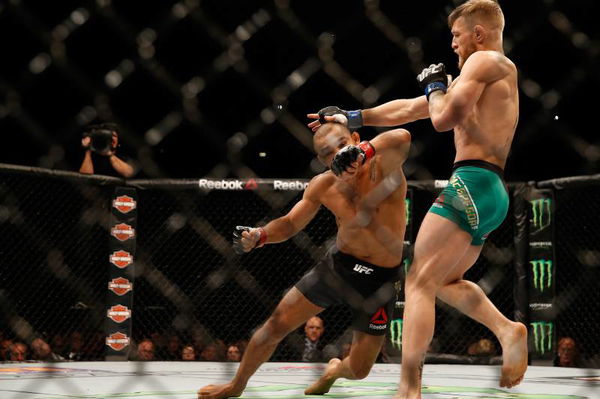 ---
---
BT Sports has released rare footage that covers Khabib Nurmagomedov reacting on the historic night, where Conor McGregor dropped Jose Aldo in 13 seconds to win the UFC featherweight championship.
ADVERTISEMENT
Article continues below this ad
Conor McGregor shocked the MMA world when he defeated Jose Aldo for the UFC featherweight championship at UFC 194. McGregor recorded the UFC history's fastest knockout in a title match. Additionally, he also broke Aldo's eighteen fight wins streak, and handed him his first loss in almost a decade.
Khabib Nurmagomdeov's reaction is priceless
ADVERTISEMENT
Article continues below this ad
Khabib's reaction was priceless as he watched the lethal left-hand knock, Aldo, with 13 seconds into the first round. Khabib was accompanied by his manager Ali Abdelaziz and was seen alongside former champion, Frankie Edgar.
Khabib's reaction to the knock out was similar to most of the audience. A shocking state with sudden disbelief of what had just happened. Khabib shook his head in disapproval, showing how amazed he was by that knockout. He put his hands on his head and looks in disbelief over the sensation 13-second title victory.
Also: "No One Is Touching Me"- The Old Conor McGregor is Back After Loss to Khabib Nurmagomedov
Nurmagomedov later joins his manager for a talk, as we see Frankie Edgar in the post-win atmosphere inside the stadium.
Khabib reacts on Conor McGregor's KO
ADVERTISEMENT
Article continues below this ad
Khabib made history and shocked the MMA world when he submitted Conor McGregor for the UFC lightweight championship. Nurmagomedov became the only lightweight to beat McGregor in UFC. He later successfully defended his title belt against interim lightweight champion Dustin Poirier at UFC 242 in a unification title bout.
What's next for Khabib Nurmagomedov?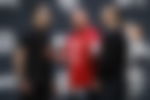 ADVERTISEMENT
Article continues below this ad
Khabib Nurmagomedov will face Tony Ferguson for the UFC lightweight championship inside Barclays Centre at UFC 249. It's the fifth time that both the fighters have been officially announced to face each other inside the octagon. However, due to one reason or another, the fight has fallen apart on all occasions.
It will be the fifth time that MMA fans will be treated with the idea of a Khabib and Tony fight. The fight will happen at UFC 249, and with several months left for the PPV, we will hope that nothing transpires that affects both the fighters in the lead up to this match.