Watch: Roger Federer and Rafael Nadal Come Together After 10 Years to Remake Another Video for Exhibition
Published 01/29/2020, 3:04 AM EST
By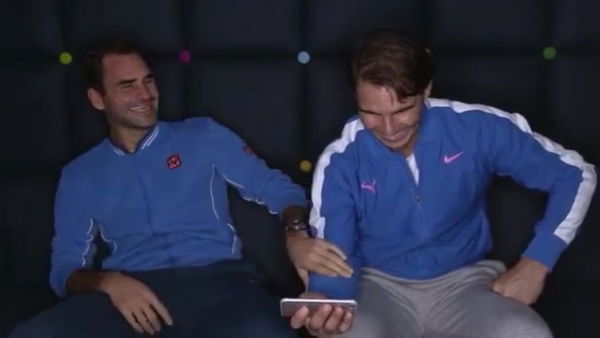 Roger Federer and Rafael Nadal will play an exhibition match in Africa this year. The match in Africa is scheduled to be held on 7 February 2020 in Cape Town. This will be the 6th edition of the exhibition matches held by the Roger Federer Foundation.
ADVERTISEMENT
Article continues below this ad
Federer and Nadal have a well-established a rivalry in Tennis that is widely considered the greatest in the sport. The pair will now resume their rivalry for a charity match. The exhibition match will use the proceeds it generates to support children's education in Africa. 
The first edition of the Match for Africa was played in Switzerland back in 2010. Federer and Nadal made a video to promote the match and it turned out to be a treat for all fans. The video went viral due to the light moments and comic nature of the interaction between the two rivals.  
ADVERTISEMENT
Article continues below this ad
Ten years later, Federer and Nadal will play an exhibition match for the sixth edition of the Match in Africa. Africa will host the exhibition match for the very first time.
Roger Federer and Rafael Nadal Speak on the Charity Match
Federer is delighted to play in Africa, his mother's home country, against his great rival.
"We share not only the love for tennis, but also for the good cause of giving children a better start in education and in life."
Nadal too had some good things to say.
ADVERTISEMENT
Article continues below this ad
"Roger and I have shared so many magical moments on and off the court. Travelling with him to Cape Town and playing for the benefit of children is something  am very excited about. It will be my first time in the region with roger as a tour guide- that will be fun."
Apart from everything else, the duo will also aim to set a record for the most spectators at a tennis match. The Cape Town Stadium, which has a capacity of 50,000, will host the match. The two recently made another video to promote the upcoming match. 
To the delight of the fans, Federer and Nadal once again shared screen time to promote their upcoming match. The video recreates the magic of the first video as well. What will delight the fans even more is that the two players watch their first video together as they reminisce.
ADVERTISEMENT
Article continues below this ad