WATCH: Roger Federer's Greatest Backhand Down The Line
Published 03/29/2020, 12:22 PM EDT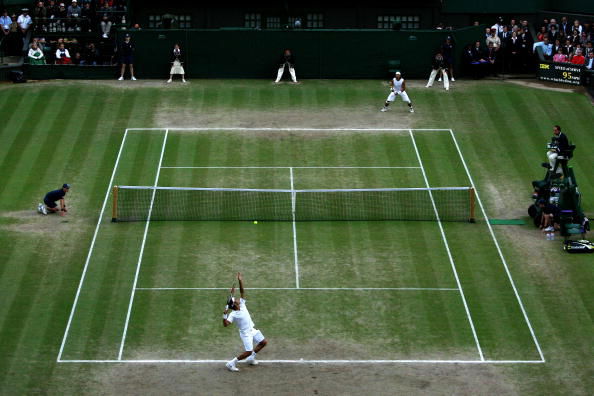 During the course of his career, Roger Federer has hit many glorious backhands. Within this big list of backhands, how do we decide the best one? We choose it by choosing the one that had the biggest impact and that leads us to the 2008 Wimbledon Final which he played against Rafael Nadal.
ADVERTISEMENT
Article continues below this ad
ADVERTISEMENT
Article continues below this ad
The Amazing Backhand By Roger Federer
In the video, we see Roger Federer hit an amazing backhand passing shot against Rafael Nadal. The precision of this shot and the fact that it came under huge amounts of pressure make it absolutely amazing. Roger has hit many shots like this so people may ask why is this one special?
This shot is special because this was the shot that helped make the 2008 Wimbledon final a match to be remembered. This shot is the reason why people regard the 2008 Wimbledon final as one of the greatest matches of all time.
ADVERTISEMENT
Article continues below this ad
Rafa was leading 2 sets to 1 and was holding championship points in the 4th set tiebreaker. If Roger Federer had not made that shot there would have been no 5th set. Without the 5th set, the match would have just been another grand slam final which nobody would have remembered specifically.
This is why that shot was so significant. It gave tennis fans a memory that they have carried on 12 years after that final was played. The only other match which has done the same for people was the 1980 Wimbledon final between Bjorn Borg and John McEnroe.
I am sure we all wish that we could time travel and see these matches again. Especially now since the ATP tour has been suspended due to the coronavirus and we are not able to witness any matches. The best we can do is hope that this situation passes and we can witness some extraordinary matches again.
ADVERTISEMENT
Article continues below this ad
.