WATCH: Sebastian Vettel and Michael Schumacher Play a Prank on Poor Nico Rosberg During Press Conference
Published 01/05/2020, 9:14 AM EST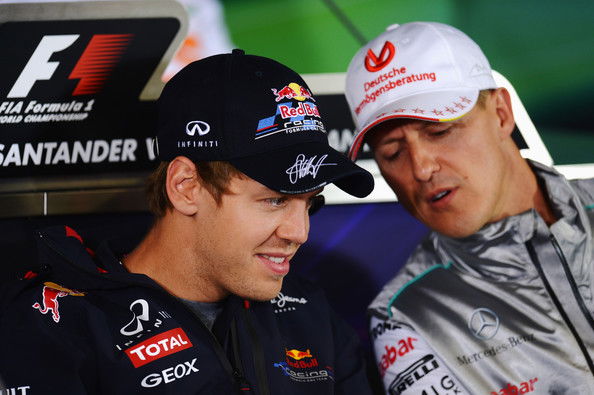 ---
---
The 2019 Formula One season has proven that not all Formula One drivers are mindless PR machines who are only there to drive and make the right noises in front of the media. Drivers like Lando Norris, George Russell, Alexander Albon and Daniel Ricciardo loves cracking jokes and having a bit of fun when they are away from the circuit. However in 2012, Michael Schumacher and Sebastian Vettel were just as playful, but it was at Nico Rosberg's expense.
ADVERTISEMENT
Article continues below this ad
During the German Grand Prix pre-race press conference, the drivers were asked about Friday practice sessions and how stressful they were. Rosberg was seated in front alongside Sebastian Vettel and Michael Schumacher and he was the first to answer. However, the real story was happening right beside him, between his compatriots.
ADVERTISEMENT
Article continues below this ad
Michael Schumacher the mastermind and Sebastian Vettel the prankster
As Rosberg spoke, Schumacher leaned over to Vettel and said something, which was lost to everyone else over the sound of Rosberg's voice. However, judging by the Cheshire grin on Vettel's face, it was going to be hilarious, and then the Red Bull driver struck.
The younger German reached over and nudged the microphone towards Rosberg's mouth, thus amplifying his voice. Needless to say, Michael Schumacher and the three other drivers, Timo Glock, Nico Hulkenberg and Mark Webber found it hilarious. Eventually, the flustered Rosberg also saw the funny side of the scene, though it did break his train of thought.
Finally, Schumacher had the last laugh when the same question was posed to the remaining drivers. Prior to him speaking, Rosberg seemingly performed a 'radio check' before concluding his talk, but Michael Schumacher kept the joke going forward. A simple, "1, 2, 3 check", was enough to evoke more laughter from everyone present in the room. After those shenanigans, te press conference continued as normal.