WATCH: Sri Lankan Bowler Matheesha Pathirana Bowls 175kph in U19 World Cup
Published 01/21/2020, 1:19 AM EST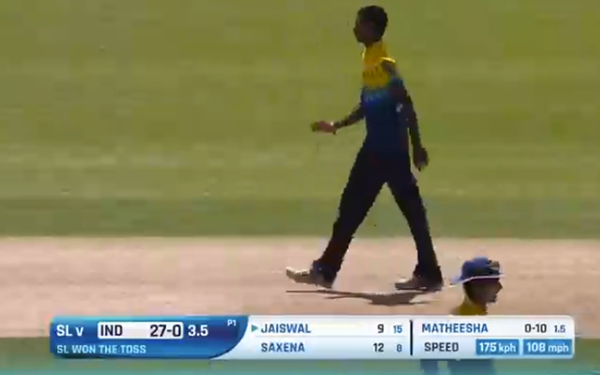 The Under-19 World Cup is currently going in full swing. The news which made headlines in recent times that a youngster bowled at a stunning speed of 175kmph. While India won by a huge margin of 90 runs, it was Matheesha Pathirana who took the limelight.
ADVERTISEMENT
Article continues below this ad
The incident took place in the 4th over of the Indian innings. Fast bowler Pathirana bowled a wide delivery to Indian batsman Yashasvi Jaiswal. That was bowled at a huge speed of 175kmph. With this, it ended up become the fastest bowl ever recorded in international cricket as well as in domestic or women's games too.
Here is the delivery of Matheesha Pathirana
ADVERTISEMENT
Article continues below this ad
ADVERTISEMENT
Article continues below this ad
Although the umpire signalled the wide, the speed machine recorded the stunning figure as the ball went passed the Indian batsman and landed in the wicket-keeper's hands. Prior to this, the fastest recorded ball in the history of the cricket was by Pakistani fast bowler Shoaib Akhtar, when he bowled at a speed of 161.3kmph in an ODI game against England way back in the 2003 World Cup.
However, the Sri Lankan did not get the credit, as the broadcasters said a technical glitch in recording the speed of the ball. Therefore, Akhtar still holds the record of bowling the fastest ball in cricket.
Here are the top 3 fastest balls in the International Cricket:
ADVERTISEMENT
Article continues below this ad
161.3kph: Shoaib Akhtar, ODI vs England in 2003 at Newlands
161.1kph: Shaun Tait, ODI vs England in 2010 at Lord's
161.1kph: Brett Lee, ODI vs NZ in 2005 at Napier
However, this is not the first time that Pathirana has caught the attention with his bowling, The fast bowler, who has changed his bowling action after the veteran Lasith Malinga, picked up 6 wickets for only 7 runs in a college match in September 2019. If he continues to bowl this way, he will soon earn the call up in the senior team as well.